Russell Brand Unloads on 'Animatronic al-Qaida Recruitment Poster' Rupert Murdoch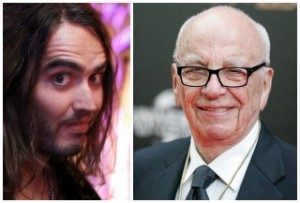 Actor/comedian Russell Brand has not been shy about expressing himself in the past, so naturally, when British tabloid The Sun printed a rumor that Brand cheated on his girlfriend, he was none too happy about it, and his rage settled squarely on Rupert Murdoch, media mogul and owner of that particular paper.
Brand, who was mocked by another Murdoch outlet after going on a lengthy diatribe against economic inequality, was riled up when he saw The Sun print a story saying he cheated on Jemima Khan. He fired back in a column for The Guardian on Friday, and had some choice words for the tabloid media.
Everyone knows papers like the Daily Mail and the Sun can't be trusted, we've come to accept their duplicity as part of their charm, and their defence, that it's only really celebrities and people that deserve intrusion who are affected, while superficially true in this case, is actually the biggest lie of them all.
But Brand saved his bigger complaints for Murdoch himself, going off on the culture of his media empire.
Rupert Murdoch, an animatronic al-Qaida recruitment poster, in his private letter to Sun staff, after the News of the World was briefly closed for a makeover… referred consistently to his pride in the Sun as "a trusted news source". Trusted is the word he used, not trustworthy. We know the Sun is not trustworthy and so does he. He uses the word "trusted" deliberately. Hitler was trusted, it transpired he was not trustworthy. He also said of the arrested journalists, "everyone is innocent until proven guilty". Well, yes, that is the law of our country, not however a nicety often afforded to the victims of his titles.
Brand keeps going on about the corruptive culture of news outlets like The Sun on modern society, and references the phone-hacking scandal that's been a thorn in the Murdoch empire for the past year. When Brand first found out about the Sun piece, he sent out these two angry tweets.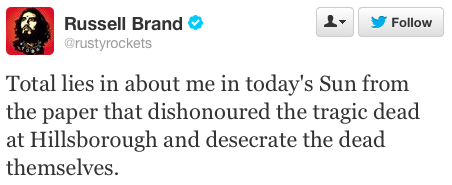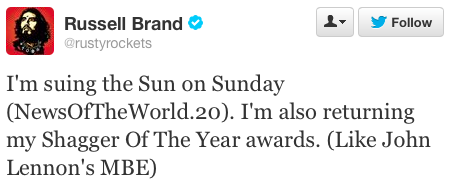 You can read Brand's full piece here.
[h/t HuffPost]
[photo via Brian Solis, Eva Rinaldi]
— —
Follow Josh Feldman on Twitter: @feldmaniac
Have a tip we should know? [email protected]
Josh Feldman - Senior Editor