Schwarzenegger: 'Extreme Right Wing' Of Republican Party Has Litmus Test That 'Doesn't Allow Compromise'
Schwarzenegger: 'Extreme Right Wing' Of Republican Party Has Litmus Test...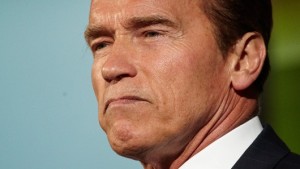 Former California governor Arnold Schwarzenegger wrote an op-ed that appeared in the Los Angeles Times about the current state of the Republican party. Schwarzenegger reaffirmed his status as a dedicated member of the GOP, but expressed his hope that the party would try to seek compromise and not be so ideologically rigid in pursuit of an agenda.
RELATED: On MSNBC, Authors of Anti-Republican Book Lay Blame On GOP For Polarized Politics
Schwarzenegger proudly related how he was inspired to join the GOP after listening to Richard Nixon talk about "less government and taxation" and "the need for a strong military." He marks this as the 44th consecutive year he has identified as a Republicans, but now he admits he feels less certain of his party affiliation than he did those many years ago. Schwarzenegger argued that in the current political climate, moderate Republicans like himself are not being treated well by certain factions of the party.
[I]n the current climate, the extreme right wing of the party is targeting anyone who doesn't meet its strict criteria. Its new and narrow litmus test for party membership doesn't allow compromise.

I bumped up against that rigidity many times as governor. Not surprisingly, the party wasn't always too happy with me. But I had taken an oath to serve the people, not my party. Some advisors whose opinions I respect urged me to consider leaving the party and instead identify myself as a "decline to state" voter. But I'm too stubborn to leave a party I believe in.

It's time for the Republicans who are so bent on enforcing conformity to ask themselves a question: What would Ronald Reagan have done? He worked hard to maintain a welcoming, open and diverse Republican Party.
He claimed that the party has a rich history of leaders "who rejected ideology in favor of seeking solutions." Nixon, after all, was responsible for creating the Environmental Protection Agency, which, as Schwarzenegger noted, is not a popular agency among many Republicans now. Schwarzenegger called for the party to be more open and welcoming of moderates.
h/t POLITICO
Have a tip we should know? tips@mediaite.com
Josh Feldman - Senior Editor