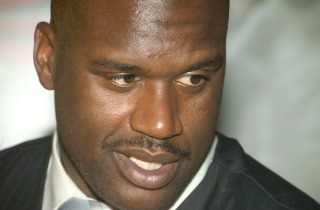 Did you know that fire can't melt steel? Unless it's fueled by Shaq Diesel, of course.
That joke doesn't quite make sense, but neither did the 9/11-related articled posted to Shaquille O'Neal's personal website on Thursday.
The article in question, posted both to Shaq.com and the NBA star's Facebook page, features slow-motion video of United Airlines Flight 175 striking the South Tower of the World Trade Center on Sept. 11, 2001. "Supposedly the materials that the buildings are made of wouldn't allow a plane to slice through it as cleanly as Flight 175 did," the article claimed.
Shaq's caption for the article? "This might make you think twice … what do you think?"
He's just askin' questions, man.
But apparently someone at his company, Mine O'Mine, thought better and deleted the posts after several sports sites picked up on it. Those sites also got some screengrabs for posterity.
Here's Shaq's FB, via NY Post: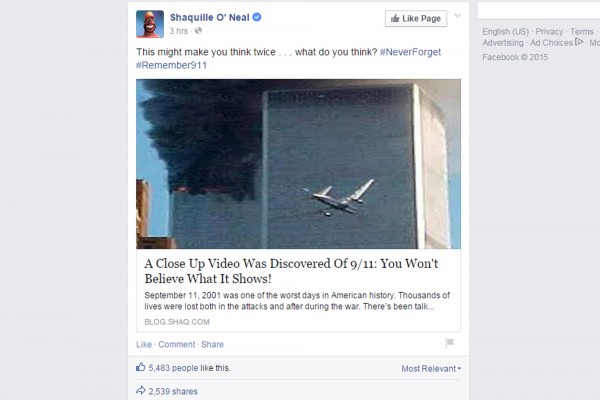 And the actual Shaq.com post, via Deadspin: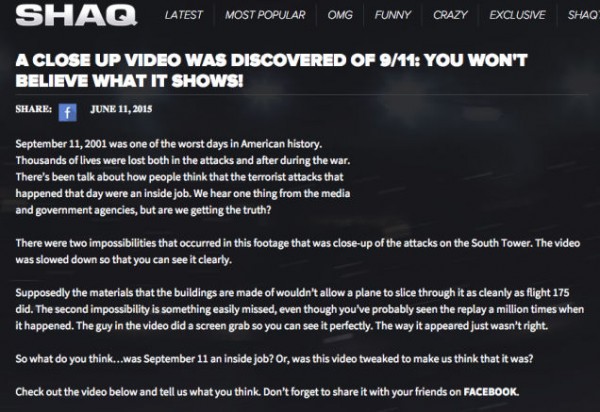 UPDATE — 1:37 p.m. ET: O'Neal has released a statement apologizing for the 9/11 post:
This post was insulting and offensive, and I apologize to everyone who came across it. Once I learned that it was on my Facebook page and blog, I ordered it removed and fired the firm that posted it. I am not and never have been a "9/11 truther.'' My father served our country and I am immensely proud of the sacrifices people make daily to keep us safe. The events of 9/11 were a horrible tragedy for our nation and it's a disgrace that anyone would think otherwise.
[Featured image via Shutterstock.com]
— —
Have a tip we should know? tips@mediaite.com