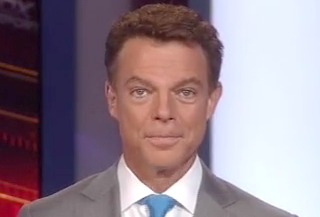 A few days ago, a Gawker report claimed that Fox News had prevented anchor Shepard Smith from publicly coming out on-air, citing anonymous sources who claimed network chief Roger Ailes didn't believe their audience was ready for a gay anchor.
In a memo circulated to his show's staff on Wednesday, Smith categorically dismissed the Gawker report with strong language. "Things you might read today are horseshit," he wrote, adding a CNN burn: The report, he said, was "as phony as 24-hour breaking news on The Plane Channel."
The Daily Banter obtained the full memo, which also contained a defense of Ailes: "I came to fox news 18 years ago because they agreed to hire me. I've stayed with fox news because of my relationship with Roger Ailes. He's my boss, my friend and my steadfast supporter both professionally and personally."
Other people mentioned in the article also denied the report, with Ailes releasing a joint statement with Smith calling the allegations "a complete fabrication," and Bill Shine, the Fox executive blamed for instigating Smith's forced closeting, firmly denying that he was ever homophobic towards the anchor (or even attended the picnic where Gawker claims he allegedly learned about Smith's orientation).
"[Ailes and I] have never asked Shep to discuss or not discuss his private life, and the notion of us having an issue with anyone's sexuality is not only insulting, but pure fiction," he said.
When confronted with what Fox execs said were basic factual errors, Gawker wrote "We've reached out to our sources to further clarify the order of events and will update once we hear back."
[Image via screengrab]
—
>> Follow Tina Nguyen (@Tina_Nguyen) on Twitter
Have a tip we should know? tips@mediaite.com