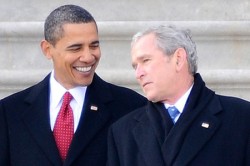 On more than one occasion we have pondered what would happen if George W. Bush had made some of the same decisions that President Barack Obama has lately been making. The different ways that the two presidents are received by the media (and by extension, the public) has been particularly glaring during the recent White House Vs. Fox debacle, especially when it looked like the rest of the press corp had nothing to say about it.
(Actually what I said was: Try to imagine the response had "Dick Cheney appeared on Meet The Press and not only declared war on MSNBC because he didn't like Rachel Maddow and Keith Olbermann, but encouraged the rest of the press to cease treating it as a bona fide news operation.")
Then there is this past weekend's golf meme — President Bush loved his bike and his brush (and was frequently castigated for the latter), Obama loves his (mostly male) golf. Imagine if President Bush had been playing this much golf.
Politico has also picked up on the trend noting the wildly kind (non?) response from the media Obama has received after: "making a four-hour stop in New Orleans, on his way to a $3 million fundraiser; snubbing the Dalai Lama; signing off on a secret deal with drug makers; doing more fundraisers than the last president." It's SO UNFAIR that former Bush counselor Ed Gillespie jokes that "we're going to start a website: IfBushHadDoneThat.com." (Actually, someone may have beat them to it.)
So what? Has the media just been continually suckered into a love affair and Obama will forever be given the hall pass on questionable behaviour? Says political analyst Sherry Bebitch Jeffe:
"There may well be almost an unconscious effort on the part of the media to give Obama a bit more slack because he is more likable, because he is the first African-American president. That plays into it."
Maybe. There's no question the press likes Obama more than Bush, or any other President since J.F.K., for that matter. But George W. Bush was judged harshly for good and terrible reason (for a number of good and terrible reasons actually, namely Katrina and Iraq, and in hindsight the economy). And while Obama probably should have spent more time in New Orleans (and maybe it would have been nice for him to check in with the Dalai Lama) these are not decisions piggy-backed on previously made disastrous decisions like not evacuating New Orleans properly ahead of a hurricane. So perhaps the press is just actually doing their job and Obama is merely being judged on his performance of the last nine months and not the sometimes calamitous eight years that preceded it. That said, any time a government launches an offensive on an entire news network should be cause for concern.
Have a tip we should know? tips@mediaite.com