Some Viewers Were Mad MSNBC Called Brian Williams To Break Missile News Over Maddow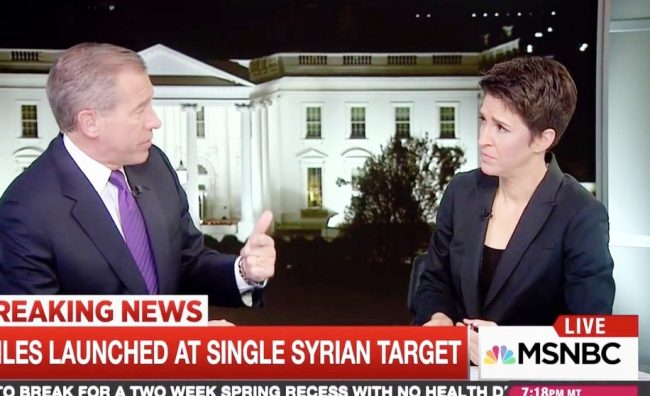 Last night, we showed you the moment Rachel Maddow's MSNBC show came to a halt as breaking news poured in that Donald Trump sent a slew of missiles toward an airbase in Syria. He did that in response to a gas attack in the country (and maybe in response to a suggestion from Hillary Clinton).
As they tend to do, MSNBC hauled Brian Williams in for the special report.
Here's the thing, though: Maddow was already at the anchor's desk talking about Syria. Why didn't she get to helm the initial coverage? Many on social media wondered the same.
.@MSNBC why did you bring in Brian Williams to cover breaking news during @maddow air time? Rachel is more than competent. #EverydaySexism

— Amy Volz (@wescott_amy) April 7, 2017
Really? Brian Williams called in as if @maddow couldn't handle a major news story? BTW – Brian sounded like a jerk UGH – Disgraceful!!

— Beachy (@BBensa) April 7, 2017
Worse than Brian Williams calling missiles "beautiful" was @MSNBC's phallic urge to launch him into @maddow's show as soon as bombing began.

— Vs. (@JFD8) April 7, 2017
Brian Williams, could you ask MSNBC to give Rachel Maddow more air time? ?? Thanks!

— Dee Son (@Diztract) April 7, 2017
.@MSNBC@maddow was on when you had B Williams come in & take over.
SHE has a PhD from Oxford.
He didn't graduate
She didn't need rescuing.

— McBlondeLand (@McBlondeLand) April 7, 2017
Rachel Maddow would never refer to a Tomahawk launch as "beautiful". What in the ever living hell is Brian Williams doing on her air time?

— Charles Clymer (@cmclymer) April 7, 2017
Brian Williams has lost his mind, waxing spellbound over the "beauty" of the weapons hitting Syria. @maddow is not that vapid, @MSNBC.

— Thank you Obamas! (@JonesCali1970) April 7, 2017
Annoyed to hear Brian Williams thanking Rachel Maddow for assisting with coverage – he took over her show!!

— Barb V (@barbvas) April 7, 2017
Brian Williams is the "traveling White House" of news anchors. #Maddow can handle on her own, thank u. #Syria #MSNBC pic.twitter.com/TeJKiu6J8c

— Painted Octopus (@paintedoctopus) April 7, 2017
@msnbc @maddow Please do not put Brian Williams in a Breaking News situation in Rachael's place. She's brilliant. Totally capable.

— Marianna (@mwitch18) April 7, 2017
Even @MSNBC thinks Brian Williams, with his sketchiness, is more competent that a woman to handle breaking news-put Maddow on now, please.

— Girls Really Rule. (@girlsreallyrule) April 7, 2017
Let #Maddow run her own show. We don't need Brian WIlliams.

— Gotham_Knowledge (@GothamKnowledge) April 7, 2017
The anger ranged from what was seen as sexism at worst and unfairness at best.
[image via screengrab]
——
Have a tip we should know? tips@mediaite.com