Spitzer's Former Madam Now Has A Campaign Video For New York Gubernatorial Race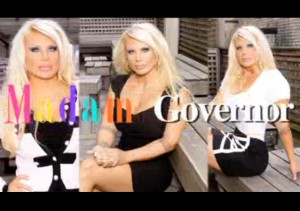 Two years ago, Kristin Davis – the madam who supplied Eliot Spitzer with hookers, not the actress who plays Charlotte on Sex and the City – was sent to jail after her escort service was busted. And her time in the clank apparently altered her career goals, because earlier this year she declared that she would be running for governor of New York. Now, her campaign video for the 2010 New York gubernatorial race is out, and it's… interesting.
Davis, who is running on the Anti-Prohibition Party ballot, supports legalizing and regulating prostitution, as well as the sale of marijuana. This is made especially clear in the video, seeing as her campaign logo is a big pot leaf superimposed over a red, white, and blue design. Oh yeah, and there's enough T&A to make the clip borderline-NSFW.
But behind all the gimmicky shots of cash stuffed into bras, Davis does make a pretty good argument for herself. She has a history in finance, she supports social change like the legalization of gay marriage (timely!), and, as she responds when asked why she thinks "running a business where everybody sold their virtue to the highest bidder" makes her a qualified candidate, her past as a pimp has prepared her well for the political environment.
One thing is certain: Davis offers a fresh voice in New York politics – when was the last time you heard Fat Boy Slim and 50 Cent used in a political candidate's campaign video? Whether a majority of voters will listen to that voice, however, will be decided Nov. 2. But that's still a few months away, so as Davis says at 4:20 of the video, "Let the fun begin!"
Note: 4:20? Really? That was totally planned.
Have a tip we should know? tips@mediaite.com