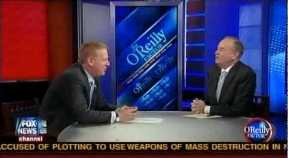 Howard Kurtz of The Washington Post (and CNN, it should be noted) writes a column today quoting various anonymous staffers who are "worried" about the rise of Glenn Beck within Fox News.
It shouldn't surprise anyone that some are voicing their concerns (and doubting his emotional sincerity) about Beck, albeit anonymously, but there's a very simple reason why it doesn't matter.
Kurtz talks about the opinion of Fox CEO Roger Ailes early on in the piece:
Beck is drawing big ratings. But there is a deep split within Fox between those — led by Chairman Roger Ailes — who are supportive, and many journalists who are worried about the prospect that Beck is becoming the face of the network…

Ailes has occasionally spoken to Beck about the negative tone of his 5 p.m. program. And Beck, in turn, sometimes seeks Ailes's advice.
And that's why the rest of the piece doesn't really matter. The buck stops in Ailes' office, and if he's given his stamp of approval on Beck's program and style, the rest of the lower level grumbling is moot. No other CEO in America is as closely tied to his company's product as Ailes (possibly with the exception of Steve Jobs), and with Fox News' huge ratings, and more importantly, huge profits, he is in full control.
A Fox News spokesperson tells Mediaite: "Howie's use of anonymous sources is stunning from a paper with the reputation of the Washington Post's. Glenn Beck has the 100% support of Fox News management."
But while we're here, let's talk about Glenn Beck some more (something we at Mediaite enjoy regularly). If you're curious about where the grumbling might be coming from, let's take a closer look. We can safely say it's not from Bill O'Reilly, the biggest star at Fox News still, who enjoys having Beck on his program regularly and recently toured the country with him. It probably doesn't come from Fox & Friends, where Beck appears as well.
Where does Beck not show up? Well, one show is Sean Hannity's 9pm ET program. At the same time Beck was joining Fox News from HLN, Hannity was finally getting the chance to have his own show (with Alan Colmes leaving the program). He was the clear silver medalist in the FNC personality department – and now he's clearly the bronze, with Beck stepping up to the #2 spot (or, in some metrics, #1). Wouldn't it make sense for the two to occasionally cross-promote on each other's shows? It hasn't happened. Also, there's the possibility for some Neil Cavuto tension, whose longtime FNC program Your World comes on before Beck's. His former executive producer Gresham Striegel left FNC (and Beck's program) recently to join MSNBC.
But again, the point is it doesn't ultimately matter. While Beck boosts sales of books, brings down members of the Obama administration and other organizations and systematically changes the television news format in his own unique way, his star power within FNC and outside it are growing. And with Ailes as his backer, it will continue to grow and help both Beck personally and FNC as a whole.
One final note. This was a fun exchange:
Some staffers say they have watched rehearsals, on internal monitors, in which Beck has teared up or paused at the same moments as he later did during the show. Asked about this, Balfe responded sharply: "Glenn reacts the same way to issues whether he knows people are watching or not, and is proud to show his emotions, unlike the cowardly, two-faced critics who hide behind anonymity."
Say what you want about Glenn Beck, but it's not an act – and he's not hiding from anyone.
—–
» Follow Steve Krakauer on Twitter
Have a tip we should know? tips@mediaite.com