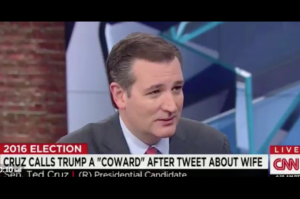 Professional cinephile Ted Cruz who occasionally runs for President and every once in a while represents his home state of Texas as a sitting U.S. Senator loves putting on a show to demonstrate his film-quoting chops. Who could forget that insufferable period of time when he endlessly performed Billy Crystal's lines from The Princess Bride?
And now, it would seem as if Cruz has shifted his attention onto other films to quote. After the Republican frontrunner cryptically Tweeted — then deleted — "I will spill the beans on your wife," the Texas Senator returned fire of sorts.
Cruz told CNN, "…and if Donald wants to get into a character fight, he's better off sticking with me because Heidi is way out of his league."
If Cruz's retort seems like too good of an on-snap! slam to be true, that's because it is, and it comes from the mind of Hollywood's flashiest writer of political dialogue: Aaron Sorkin.
Ted Cruz literally lifted a line from The American President pic.twitter.com/BdG7Qcr4Ye

— Lachlan Markay (@lachlan) March 23, 2016
The line comes from 1995's The American President, as President Andrew Shepherd — played by Michael Douglas — defends the reputation of a lobbyist he falls in love with, Sydney Ellen Wade (Annette Bening).
So what's next for the Cruz Cinema Club? West Wing stretched for seven seasons, and there's lots of good one-liners there. Cruz seems like the type of person to start with Josiah Bartlet's famous, "In this building, when the President stands, NOBODY sits!" so look for that one to be tossed around on the afternoon on January 20th, 2017… if new Cruz-endorser Jeb Bush has his way, that is.
Have a tip we should know? tips@mediaite.com