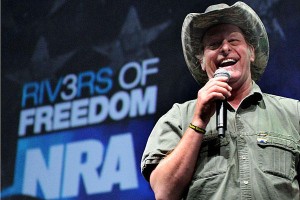 Even after being questioned and cleared by the Secret Service, rocker Ted Nugent will not be welcome at Fort Knox, where he was scheduled to perform in June. Leaders at the army base decided to cancel Nugent's performance once they were made aware of Nugent's controversial comments about how he would end up "dead or in jail" if President Obama was re-elected.
RELATED: Ted Nugent Defends Obama Remarks, Refers To Himself As 'Black Jew At A Nazi-Klan Rally'
The Fort Knox Facebook page was updated on Thursday to announce that Nugent would no longer be performing. They say that "after learning of opening act Ted Nugent's recent public comments about the president of the United States, Fort Knox leadership decided to cancel his performance on the installation."
Needless to say, reactions have been mixed. Some agreed with the decision, because the military is under the command of the president and that was the target of Nugent's comments. Others vehemently disagreed. Here is a comment on the Facebook post from earlier today:
You, the leaders of our Military are communists. You should be ashamed of yourselves…I sure hope that REO Speedwagon and Styx follow suit and cancel. Our constitution is the most important piece of paper in this country. I am former military and I SPIT on you. I would love to take my DD214 and tear it up in your faces to show how disappointed I am in our military leaders!
For what it's worth, following his meeting with the Secret Service, Nugent issued a statement claiming they all left "concluding that I have never made any threats of violence towards anyone."
h/t CNN
Have a tip we should know? tips@mediaite.com
Josh Feldman - Senior Editor