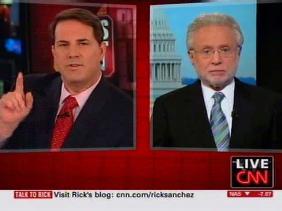 Politico's Michael Calderone pulls back the curtain on some internal tension at CNN over the direction of the network.
Besides a meeting that took place at the D.C. bureau, there are also concerns at the network about the need for John King's upcoming 7pmET show to begin the process of turning the nighttime ratings around.
Calderone writes about a meeting that was attended by CNN Worldwide President Jim Walton and CNN/U.S. President Jon Klein in D.C., although "CNN staffers didn't realize that Klein was sitting in the back of the room."
Blitzer has a loyal following in the Washington bureau, which, according to one CNN staffer, "tends to be more traditional in its approach to news." Sanchez, who incorporates Twitter heavily into the show, is viewed by some in Washington as merging entertainment more with the news content than is customary at the network, and at one point Howie Lutt, senior director for "The Situation Room," stood up and asked the roughly 200 staffers assembled in the bureau to raise their hands if they respect him or Blitzer as a journalist, according to network sources.

Almost everyone assembled raised their hand for Blitzer; only a few showed similar support for Sanchez.
This type of inner dissension bubbling up publicly is not something normally associated with CNN, which takes pride in its outward display of solidarity while contrasting the sometime volatility at competitors MSNBC and Fox News. More:
[When] CNN announced the Sanchez move, internal scuttlebutt has revolved around Blitzer being somewhat sidelined by management.
While Blitzer loses an hour at 4pmET, the three hours of hard news remain with John King's 7pmET hour starting soon.
And that new program is the other part of the story. Political Director Sam Feist wouldn't give "away any details about format or content," but claimed it would be "the most-watched political show." A political show is an interesting description. The program will be competing with a hard news hour on Fox News (anchored by Shepard Smith) and a politics-heavy opinion show on MSNBC (the Chris Matthews repeat). It's a tough field, and as Calderone points out, CNN at 7pmET is "a consistent loser."
CNN needs help in the ratings – mostly during prime time. But they've made some changes during the day, with Ali Velshi for two hours from 1-3pmET and Sanchez from 3-5pmET. Sanchez' ratings will have to show an improvement, especially at 4pmET which was Blitzer's first hour of The Situation Room until recently, to prove to Sanchez' detractors that his style is a winner. And King, although not in prime time, has another hill to overcome – will a hard news political show improve on CNN's 7pmET ratings, and help lead into prime time?
We'll see soon.
—–
» Follow Steve Krakauer on Twitter
Have a tip we should know? tips@mediaite.com