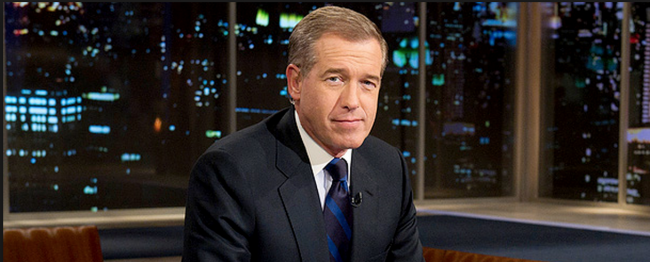 So with Brian Williams gone (again, it's not even a question of if he can survive this onslaught anymore), the task for the powers that be at 30 Rock is to find its next anchor. Lester Holt is very capable and fine as a weekend anchor, but perhaps not the guy you want to build your franchise around.
As is tradition in this space as if we were playing fantasy football, here are your three best replacements below. But first, let's discount some names being floated around quickly:
Katie Couric: CBS tried this already last decade. It didn't work. Katie is a morning news host. Period. All of these attempts to turn her into something she's not just because of her brand name shows how clueless some in this industry are.
Matt Lauer: (See: Couric, Katie). Matt is a morning news host. Period. Any attempt to turn him into something he's not just because of his brand name shows…(you know the rest).
Savannah Guthrie: (See: Lauer, Matt). Savannah is a morning news host and helped cement the Today Show into the second place it now sits in. And if you move her to the Nightly News, who replaces her on Today after grooming her for two years? Why she's even being considered shows how not deep the NBC bench is beyond Mr. Holt.
Ironically, you know who wouldn't have been a bad choice to replace Williams? David Gregory. Never the right fit for Meet the Press, but he did well as a fill-in anchor on NBC Nightly News and would fit in better in that particular role. But he's long gone now after the network cut ties with him altogether. Oh well…
OK, on to some real candidates:
Jake Tapper: The 45-year-old host of CNN's The Lead may be under contract, but as they say…contracts are made to be broken. Tapper is universally respected going back to his ABC days and his ratings have been challenging Fox's Neil Cavuto of late (in a battle of two of the better people in broadcasting today). It's like rebuilding a football team the way the Colts did when the organization parted ways with Peyton Manning: I build around my quarterback. Williams was Manning. Tapper is Andrew Luck…my franchise winner now and well into the future.
Carl Quintanilla: Great CNBC host (Squawk on the Street) and has real presence on screen. Would come relatively cheap (compared to the $10 million annually Williams makes). Very well respected and liked internally. He's been with the network since 1999. During Katrina in 2005, Quintanilla was in New Orleans for weeks and shared a national Emmy, a Murrow Award and a coveted Peabody Award as part of the NBC field team assigned there. He's also done critically-praised documentaries for CNBC, including my favorite: Trash Inc: The Secret Life of Garbage. Not the sexiest choice, but perhaps NBC doesn't want sexy at this point.
Jon Stewart: Interesting timing to consider: Stewart will be available at the end of Williams' suspension if it actually goes until July. And before you dismiss a comedian anchoring a network news program, keep in mind that Stewart was tapped as first choice to host Meet the Press before Peacock suits settled on Chuck Todd. Given the funeral-esque reaction to Stewart's announcement this week from former presidents to celebrities to the political chattering class to the general Twitter population as a whole (and the lower expectations of media figures in general), a Stewart scenario could easily work here. But would Jon want the job? He did turn down Meet the Press, but the lifting here is less substantial.
Brian Williams' time at NBC (or any other news organization) is done. The wounds are self-inflcited…from Iraq to New Orleans to Berlin to the Pope to Gawker. It's still hard not feel sorry for him given how this will haunt him with sleepless nights for the rest of his life.
Now NBC must begin to rebuild after sitting at #1 in the Nightly News race just two weeks ago. By hiring any of the three men above, perhaps it can return to the top faster than it realizes.
>>Follow Joe Concha on Twitter @JoeConchaTV
Have a tip we should know? tips@mediaite.com