This Exists: Tennessee Legislator Gets Obama "DisappointMints" Removed From University Bookstore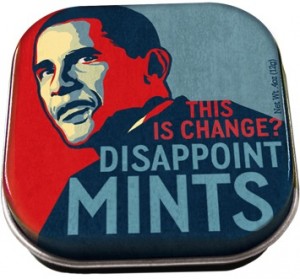 There have been so many ridiculous Obama-based products released on the market since 2008. Obama bobbleheads, Obama plates, Obama condoms, and now Obama mints.
However, these mints are not exactly pro-Obama. Nicknamed "DisappointMints," the tin cover asks "This is change?" The product is manufactured by the company Unemployed Philosophers Guild, which also sells satirical Bush & Palin mints. (For the completely unnecessary sake of full disclosure, they also sell a pro-Obama mint with the slogan "Yes We Candy.") Here's how the product is described on their official website:
From our Tough Love Department comes Disappointmints. Hey, we've been as big a fan of Barack Obama as anyone. But with each compromise for the sake of unity, "Yes we can" looks more like "No he can't." (sic) So in the name of Free Speech and Fresh Breath, we're offering Disappointmints. They're delicious little mints packed in a colorful tin that tells our President just how we feel. We're pretty sure he shops here, so we expect he'll get the message. And Big O – Nothing would make us happier than to take Disappointmints off the market!
The Obama mints are currently being sold at the University of Tennessee bookstore, and according to director David Kent, they've been available since 2009 and they have not had any complaints. That all changed when Democratic State Representative Joe Armstrong approached Kent to let him know he thought the mints were "offensive."
According to Knox News, Armstrong was contacted by a UT student who complained about how the president was depicted on the mint tin. He visited the bookstore and explained his position to Kent, who immediately agreed to remove the product from the store shelves.
Armstrong's argument for getting rid of the mints:
"When you operate on state and federal dollars, you ought to be sensitive to those type of politically specific products," Armstrong said. "If it was a private entity or corporation or store, (that's different), but this is a state university. We certainly don't want in any way to put the university in a bad light by having those political (products), particularly aimed at defaming the president."
Lest you think he did this for partisan reasons, Armstong insists he would have done the same if there were mints making fun of Bush (which the store did sell at one point) or Tennessee Governor Bill Haslam.
But here's where the debate gets truly bizarre. Obviously, people saw this as a form of censorship, but Armstrong argues that banning the mints from being sold at the university bookstore was not in violation of the First Amendment.
"With a book or something of that nature, then fine, but that (the mints) is sort of a discretionary product they have," Armstrong said. "It wasn't viewpoint neutral. Very specifically insulting to the president."
For a rebuttal, Knox News reached out to Glenn Reynolds, who teaches constitutional law at the University of Tennessee. Reynolds described it as "a species of censorship," elaborating:
"I just think it's really quite odd to hear of a state legislator to take it upon himself to have something removed from a bookstore. It's the kind of thing people make fun of Mississippi for."
However, the big takeaway from Reynolds' argument is a one-liner that deserves its own t-shirt, bumper sticker, and whatever else they sell at university bookstores.
"There is no candy exception to the First Amendment."
I want to see this blazoned on the front doors of every candy store in the country. When I go to Hershey Park, I want to see this engraved on the walls. I want constitutional scholars to explain in incredibly long detail if mints are guaranteed the same free speech rights as human beings. I want to see libertarians holding these signs at rallies.
Here is how Reynolds explains his position on the free speech rights of breath fresheners. (Sorry, Minty Americans.)
"Free speech is free speech. If you make fun of the president in a mint, it is just as much free speech as it is if you make fun of the president in a political cartoon."
And I think we've had enough countries banning satire for one week.
Have a tip we should know? [email protected]
Josh Feldman - Senior Editor