This Is The Guy Chuck Hagel Didn't Want To Be An Ambassador Because He Was 'Aggressively Gay'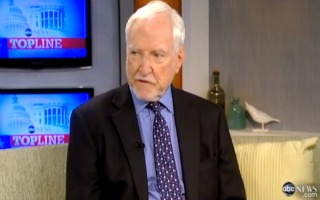 President Barack Obama's likely preferred candidate to succeed Defense Secretary Leon Panetta, former Sen. Chuck Hagel (R-NE), has found himself in the middle of a firestorm of controversy since his name was floated for the post. Hagel's potential nomination has already been vigorously opposed by some on the right, but voices on the left are now expressing reservations about Hagel. Progressives wary about Hagel have cited his opposition to President Bill Clinton's 1998 nominee to be the next Ambassador to Luxembourg, James Hormel. Hagel opposed Hormel's nomination because, as he put it, it would reflect poorly on the United States to appoint an ambassador who was "aggressively gay."

On the "gay aggression" scale, it is hard to see how Hormel ranks especially high. In this interview for ABC's Topline in 2011, Hormel came out in favor of the Obama administration's directive to cease enforcement of the Defense of Marriage Act. Save from his unequivocal condemnation of DOMA, Hormel comes off as relatively mild-mannered.
In a 1998 interview with the Omaha World-Herald, Hagel expressed his unequivocal opposition to Hormel's ambassadorship. "Ambassadorial posts are sensitive," Hagel said. "They are representing America. They are representing our lifestyle, our values, our standards. And I think it is an inhibiting factor to be gay — openly, aggressively gay, like Mr. Hormel — to do an effective job."
Hormel is clearly a partisan Democrat – he absolved President Clinton's role in passing DOMA as a result of Republican agitation on the subject of gay marriage. Republican opposition to Hormel may have been more political than homophobic; George W. Bush appointed an openly gay ambassador to Romania who was quickly confirmed by the Senate in 2001. Nevertheless, Hagel's statements for the record are troubling for anyone concerned about the appearance of prejudice from a potential Defense Secretary.
Times have changed since the late 1990s, and Hagel may have changed too. But this is not the only charge of discrimination that Hagel is fending off. He is facing criticism from the right as well for his having once referred to supporters of the state of Israel in Washington as "the Jewish lobby" – a misnomer at best, anti-Semitism at worst.
Hagel's words are reinforced by disturbing actions; The Weekly Standard has assembled a comprehensive list of the former Senator's opposition to the Bush administration's efforts to isolate terrorist organizations in the Middle East like Hamas, Hezbollah and Yassir Arafat's Fattah.
With criticism of the former Senator mounting on both sides of the political aisle, Hagel's trial balloon is under unremitting assault and is certain to pop without a stern defense of his qualifications from the White House. So far, the administration has mounted only a tepid effort to defend Hagel from myriad attacks.
> >Follow Noah Rothman (@Noah_C_Rothman) on Twitter
Have a tip we should know? tips@mediaite.com