Time To Move To Canada! Newsweek Polska Warns United States Is Close To Collapse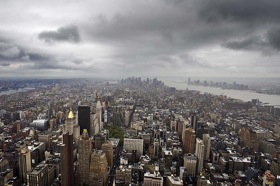 America's reign as a world power is coming to an end, soon. This the latest from Newsweek, where Newsweek Poland correspondent Andrew Nagorski is warning that the collapse of the United States is imminent. "It's harder now to shrug off the America-in-decline theories than ever before," he notes, citing such rock-hard evidence as the fact that New York Times columnists are mopey, Greece is close to bankruptcy, and "there's even something in the air." Hope your passport is ready!
Nagorski's piece, entitled "America May Truly be in Decline," lists off what Nagorski considers clear signs that the United States is in serious peril of being knocked off the top spot as the world's most stable and successful nation. He bases many of his claims on British professor Niall Ferguson's Foreign Affairs piece, "Complexity and Collapse" (though Nagorski renames it "Decline and Fall", possibly after the British public school novel), which argues that the fall of nations is often swift and while expected, too sudden to avoid.
He claims to see the signs, though most of what he points out is typical in American culture. For one, he warns that "the opinion pages are full of self-flagellation and unflattering comparisons," using the New York Times as an example. What he fails to understand is that it's the New York Times' job to be full of self-flagellation; call me when their columnists are actually happy about something America does, thanks.
Then he cites as evidence the comment of a former Newsweek colleague who described New York City as "humbled". It's unclear what scientific metric he uses to gauge the humility of the city, but it's clear his colleague hasn't taken any subway rides recently if he finds the attitude of the city humbled. Nagorski is also concerned about outside events prompting a crisis: cyber-terror (he must have not heard about Spencer Pratt's career epiphany), the Greek economic collapse (it is "symptomatic of underlying problems," he claims), and the rise of China. The silver lining? "[Russia] is in a much steeper decline."
No one denies that the United States is going through trying times. The effects of the flawed economy and high unemployment rates permeate every American's life, the health care reform debate refuses to give back the news coverage it has held hostage for months, and through it all the nation is still fighting two wars. But this kind of unsubstantiated fear-mongering is the last thing Americans need to hear, especially because it provides no information that is new, relevant, or factual. Things are bad enough without having to worry about "something in the air."
[Photo via]


Have a tip we should know? [email protected]