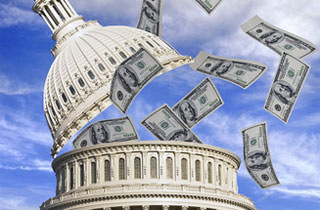 According to data just released by Roll Call in their annual 50 Richest Members of Congress list, the top ten richest members of Congress — that's about 1.8% of Congress — is worth a collective $1.052 billion dollars, give or take a couple million.
Entrepreneur, House Oversight Committee chair, and Benghazi aficionado Rep. Darrell Issa (R-CA) is comfortably the richest, with a net worth of $357.25 million. The self-made Issa famously made his money by selling car alarms, though did admit that he'd gotten in legal trouble as a kid for trying to steal cars. Other entrepreneurs include Rep. Jared Polis (D-CO), who created ProFlowers.com and whose "diverse and unusual portfolio [is] stocked with emerging growth and startup investments," ranging from Uber to Japanese nursing homes.
Some of their money, however, isn't self-earned: the $117 million fortune of the second-richest man, Rep. Michael McCaul (R-TX), belongs entirely to his wife, the heiress to Clear Channel. Sen. Jay Rockefeller (D-WV) inherited most (if not all) of his wealth from his extremely rich, famous progenitor. And Rep. Scott Peters' (R-CA) net worth of $45 million mostly comes from his wife, who operates a successful hedge fund.
For some reason, Sen. Richard Blumenthal (D-CT) has $600,000 in actual gold sitting somewhere, we kid you not.
In also sad news, the "poorest" member of Congress, Rep. David Valadao (R-CA), is worth negative millions of dollars, implying that even he has more money to spend than you ever will. (You can take solace in the fact that even people like Rep. Debbie Wasserman Schultz (D-FL) has credit card debt and two mortgages, which, we guess, makes her kind of like you, America.)
[Roll Call]
[Image via Shutterstock]
—
>> Follow Tina Nguyen (@Tina_Nguyen) on Twitter
Have a tip we should know? tips@mediaite.com