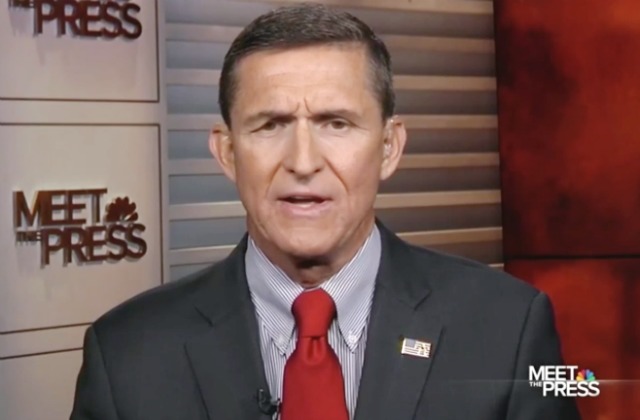 Michael Flynn has been at the heart of some big recent reports about the Trump administration, but another report out today says that just two days after Flynn was fired, President Trump said it was a mistake.
Just this week, there was big news of a Comey memo saying that Trump allegedly told him he "hope[s] you can see your way clear to letting this go, to letting Flynn go." Trump yesterday vehemently denied it.
Trump has publicly defended Flynn as a good man and decried the "witch hunt" against him, not to mention the report yesterday that the president is apparently still in contact with Flynn.
Well, after lots of other big news dropped today, Politico reported that it was just "two days" after Flynn's firing that Trump said it was a mistake:
Trump, several people close to him say, sometimes appears to question decisions even after they've been made. He told New Jersey Gov. Chris Christie that he could still be labor secretary even after he'd publicly named Alexander Acosta to the role. He privately told former New York Mayor Rudy Giuliani he could potentially still name him as attorney general after he'd offered Jeff Sessions to the job.

But the Flynn situation has been different, several officials and advisers said. "I was kind of stunned," one person said. "I asked him. You fired him already. What are you going to do?"
Politico's reporting adds that "has grown obsessed with defending" Flynn and continuing to say he's a good man.
[image via screengrab]
— —
Follow Josh Feldman on Twitter: @feldmaniac
Have a tip we should know? tips@mediaite.com
Josh Feldman - Senior Editor