Twitter Goes to Town on Trump's Meandering Refutation of NY Times Story: 'All He Does is Watch TV'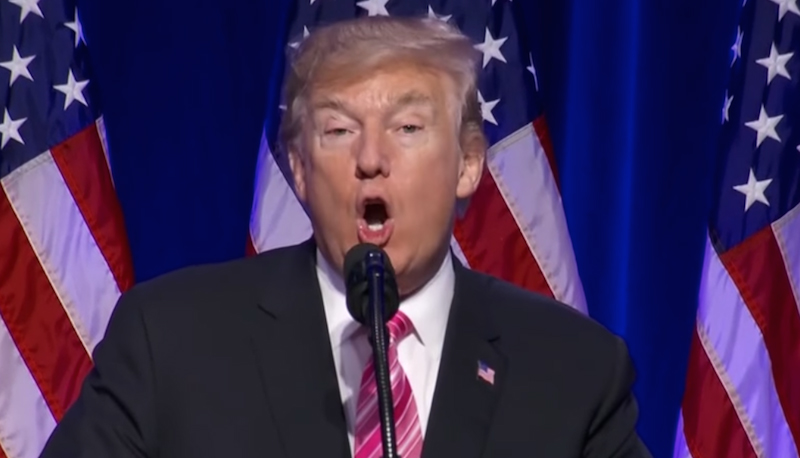 After a weekend spent golfing with Sen. Lindsey Graham, whom he once referred to as a "nut job" and "one of the dumbest human beings" he had ever encountered, President Donald Trump is back to work plunking out incendiary tweets against the media. No rest for the weary, right?
This morning's tweet was in response to a weekend report by the New York Times, which alleged that the president watches hours of television each day, tweets from bed and occasionally arrives to meetings clad in pajamas.
Trump's tweet, which he conceived of, typed out and published after being briefed about this morning's fumbled terror attack in New York City, read like an anti-media mix tape, with "fake news," "failing" and random exclamation marks all making an appearance.
He also took the time to call CNN's Don Lemon the "dumbest man on television," which means, if Graham is any indication, the two will be golfing together some time next year.
Media members did not take Trump's Twitter attack laying down, though some of them may have literally been laying down, issuing harsh and hilarious condemnations against the president.
All he does is watch TV https://t.co/GFKtoFAbch

— Chris Cillizza (@CillizzaCNN) December 11, 2017
Trump's tweet this morning is evidence that he doesn't read Twitter (where the NYT story & his TV habits were discussed days ago) or, more surprising, the Sunday NY Times

— Chris Suellentrop (@suellentrop) December 11, 2017
Hour plus after bomb went off in major transit hub in NYC https://t.co/obGKmR0dwY

— Josh Marshall (@joshtpm) December 11, 2017
If he had more room he would have said "I never watch Don Lemon whose show airs on channel 189 at 10 pm EST Monday-Friday" https://t.co/d7LRE1pXCq

— Yashar Ali ? (@yashar) December 11, 2017
Interesting that Trump is choosing to attack the New York Times, rather than respond to the Times Square terror incident. https://t.co/9oS7HSsTHD

— Kyle Griffin (@kylegriffin1) December 11, 2017
trump tweeting about not watching tv after hearing about how much tv he watches while watching tv pic.twitter.com/KcvBVAqID4

— Ashley Feinberg (@ashleyfeinberg) December 11, 2017
literally the most believable thing about Trump is that he watches 4-8 hours of TV per day

— Igor Bobic (@igorbobic) December 11, 2017
Donald Trump Speaks:

2016 Convention: "We Will Make America Safe Again."

2017 Inaugural: "We Will Make America Safe Again."

2017 NYC explosion: I don't watch a lot of TV. https://t.co/Xg6M9mTyXG

— Keith Boykin (@keithboykin) December 11, 2017
This story came out in the NYT two days ago. But Morning Joe covered it right before this tweet. So, it seems Trump angrily tweeted that he doesn't watch TV in response to…watching TV. Just amazing. https://t.co/mecM9Vduk3

— Brian Klaas (@brianklaas) December 11, 2017
One of the few times Trump doesn't rush to capitalize on an apparent terror attack it's because he wants to tell people he doesn't watch much TV. https://t.co/DIoaEoOuqC

— Philip Bump (@pbump) December 11, 2017
every news station: there was a thwarted terrorist attack in NYC
trump: i watch 7 hours of tv a day, not 8, and diet coke is for fat people

— Jessica Roy (@JessicaKRoy) December 11, 2017
CNN even issued a response to Trump's tweet, defending Don Lemon and accusing the president of "engaging in the very same behavior" as "bullies [who] torment kids."
[image via screenshot]
—
Follow Lawrence Bonk (@sidescrollers) on Twitter
Have a tip we should know? tips@mediaite.com