Twitter Melts Down Over Trump's Insane 51 Minute Media Blitz: He's 'Still Talking…'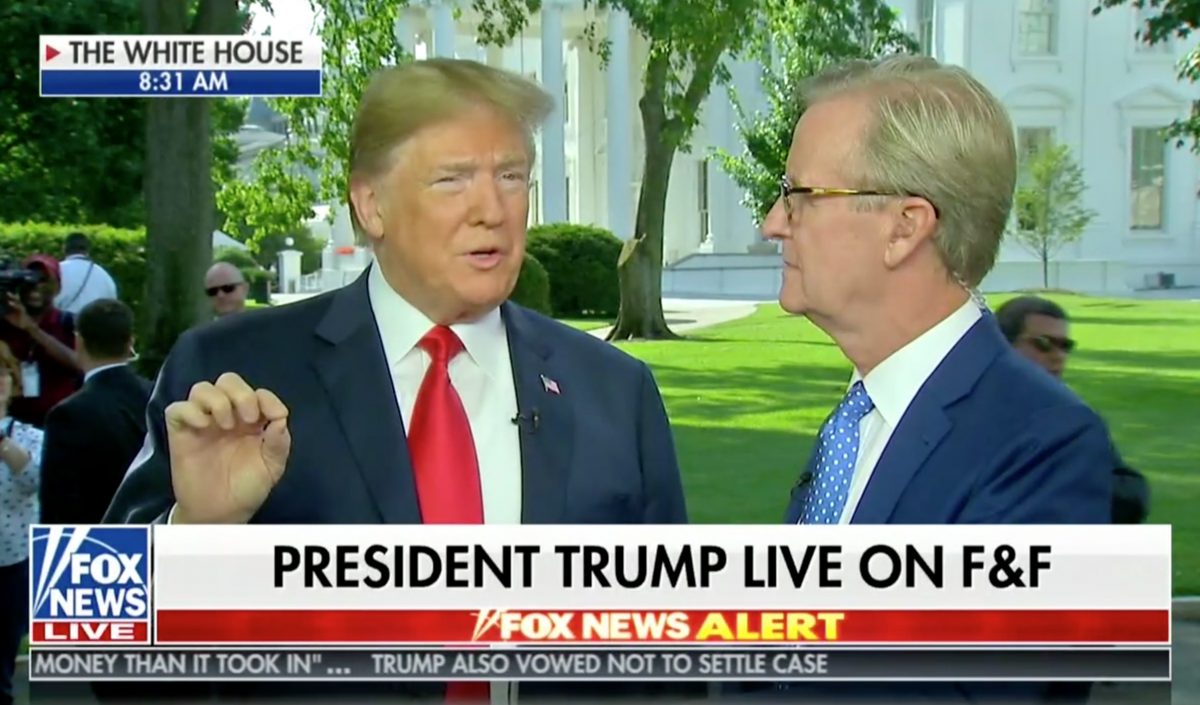 President Donald Trump wandered onto the White House lawn this morning for an announced "unannounced visit" to his favorite morning show Fox & Friends, which caused some of the most insane Trumpian comments in recent memory and triggered a collective sigh from Twitter.
"Wow, the highest rated (by far) morning show, @foxandfriends, is on the Front Lawn of the White House," Trump tweeted early this AM. "Maybe I'll have to take an unannounced trip down to see them?"
While filming at 1600 Pennsylvania Avenue, Fox & Friends host Steve Doocy spoke with the president on topics like his budding bromance with Kim Jong Un, who Trump praised and voiced a desire to have "my people" treat him like the North Koreans treat their murderous dictator. The president continued his tirade by calling leaders in the FBI "scum," suggesting that James Comey should be put behind bars, and slamming the recent controversial IG report as a "horror show."
Predictably, every semi-reasonable pundit, journalist, and Twitter personality watching the shitshow transpire responded with outrage — particularly over Trump's desire to be like Kim — as well as fact checks and admission that we really do live in the "dumbest possible timeline." See a few of the best reactions below:
This is one of the sickest things ever said by an American president. It is no different than Trump saying he wants to be feared by Americans as Stalin, Mussolini or Hitler were by their populations. https://t.co/6bUMQwRFcj

— Norm Eisen (@NormEisen) June 15, 2018
Let's take Trump's "sit up" statement in the most favorable light for him. Let's say he was merely talking about his immediate staff.

It's still utterly goddamn egregious ball-washing of a violent dictator who kills his family, staff, and people for sport.

— Rick Wilson (@TheRickWilson) June 15, 2018
Dear @realDonaldTrump: You know what makes America great? Not only do Americans not need to sit at attention when you speak, we don't even have to come to your parties. #MAGA https://t.co/i1e1lPIgZG

— Ted Lieu (@tedlieu) June 15, 2018
Let's not call @realDonaldTrump delusional or out of his mind. He knows exactly what he's doing. He's scamming Americans.

— Rep. Eric Swalwell (@RepSwalwell) June 15, 2018
The Circle is Complete: Trump openly demands he be loved & respected like a North Korean Dictator … or else. He is delusional & Democracy is in danger. https://t.co/ZsfnyRkOot

— Malcolm Nance (@MalcolmNance) June 15, 2018
Trump repeatedly said yesterday's IG report shows there was was "no collusion" on Russia. It did no such thing, obviously.

— Ken Dilanian (@KenDilanianNBC) June 15, 2018
Fuck Trump. Deniro was right.

— Oliver Willis (@owillis) June 15, 2018
Trump's campaign chair may be sent to jail today does that have anything to do with Trump holding this unusual roving press conference in the front yard? pic.twitter.com/tuV2yOEmjc

— Ari Melber (@AriMelber) June 15, 2018
Listen,I have zero tolerance for pseudo Republicans in my feed who think is is a fine "joke." Because I know and you know you'd be losing your ever-loving mind if a Democrat said it. Sorry my politics don't change like that. If you can't handle it, unfollow.

— Amanda Carpenter (@amandacarpenter) June 15, 2018
Please tell me he didn't say this
Please tell me he didn't say this
Please tell me he didn't say this

He said this https://t.co/cy35Lfz4JZ

— David Biddle (@davidebiddle) June 15, 2018
Someone (can't remember who) said during the election that Trump was running to be POTUS because he wanted people to stand when he walked into a room https://t.co/9vsO5Yrhm8

— Allahpundit (@allahpundit) June 15, 2018
Ha ha ha ha because Kim had them murdered https://t.co/KNKwDaczoT

— Jake Tapper (@jaketapper) June 15, 2018
The beginning of this: Fox man asks mildly critical question, Trump mildly pushes back, so Fox man just starts prompting Trump with the president's own argument. https://t.co/PvnIHwItuh

— Daniel Dale (@ddale8) June 15, 2018
I need to go bleach out my brain.

— Rick Wilson (@TheRickWilson) June 15, 2018
Just to be clear. Kim Jong Un is a dictator and a murderer. That's why his people "sit to attention." https://t.co/2KAyoBoWZ8

— Katy Tur (@KatyTurNBC) June 15, 2018
Wishing for a brutal communist regime that compels people to praise a leader, to own the libs. https://t.co/PyG0SoT74T

— Matt Fuller (@MEPFuller) June 15, 2018
Um wut https://t.co/SKd4pVh0s9

— Ben Shapiro (@benshapiro) June 15, 2018
We are on the dumbest possible timeline

— Oliver Willis (@owillis) June 15, 2018
Trump still talking……

— Jonathan Capehart (@CapehartJ) June 15, 2018
Watch above, via Fox News.
[image via screengrab]
Follow the author on Twitter (@calebecarma).
Have a tip we should know? tips@mediaite.com