UPDATED: Two Teenagers Arrested; 13-Month-Old Baby Fatally Shot In The Face While On Stroll With Mother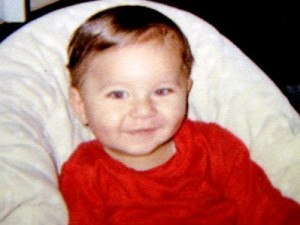 On Thursday, March 21st, 13-month-old Antonio Santiago was fatally shot during an apparent attempted robbery of his mother, Sherry West, in Brunswick, Georgia.
According to West, she was walking with her son in his stroller, returning from a trip to the post office, only blocks from her home, when two boys approached her, demanding money.
"He asked me for money and I said I didn't have it. When you have a baby, you spend all your money on babies. They're expensive. And he kept asking and I just said 'I don't have it.' And he said, 'Do you want me to kill your baby?' And I said, 'No, don't kill my baby!'"
One of the boys then reportedly shot West, with one bullet hitting her in the leg and another grazing her ear, before walking around to the stroller and shooting 13-month-old Antonio in the face.

An emotional West states: "I tried to protect my baby, but I thought the gun was fake. I thought he would never do it in daylight."
On Friday afternoon, local police announced the arrests of 17-year-old De'Marquise Elkins and an unnamed 14-year-old (as a juvenile, his name is withheld). Elkins is charged as an adult with first-degree murder.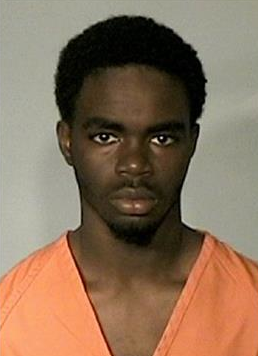 AP Photo. Pictured: De'Marquise Elkins, age 17. Photo taken by the Glynn County Detention Center on Friday, March 22, 2013.
The investigation is still underway and the firearm has not been found.
West expressed doubts regarding the 14-year-old who was arrested, however, noting that the younger of the two boys she encountered was a "little boy" who "did not look 14."
The neighborhood is described as picturesque and one where violence is not common:
Beverly Anderson, whose husband owns the property where West has lived for several years, said she was stunned by the violence in what's generally known as a safe neighborhood where children walk to school and families are frequently outdoors. Jonathan Mayes and his wife were out walking their dogs Friday, right past the crime scene, and said they've never felt nervous about being out after dark. "What is so mind-numbing about this is we don't have this kind of stuff happen here," Mayes said.
The baby's father, Luis Santiago, lives in a house across from West. Both Santiago and West are grieving their slain son, with a sobbing West noting her baby will "never be back again." Luis Santiago said he "forgives" the two and "will pray" for them but that they "have to pay the consequences."
Elkins, the 17-year-old arrested, was reportedly selected by West out of 24 mug shots police showed her.
But Elkins's sister, Sabrina Elkins, believes her brother is innocent of the charges, telling reporters: "He couldn't have done that to a little baby. My brother has a good heart." She claims when the police came to her door searching for Elkins on Friday morning, they "came pointing a Taser at him, telling him to get on the ground. He said, 'What are you getting me for? Can you tell me what I did?'"
Katrina Freeman, Elkins's aunt, also maintains his innocence, claiming the young man was with her during the incident.
Brunswick Police Department spokesman, Todd Rhodes, said Saturday that he's not surprised Elkins's aunt would try to protect him: "That's what she's saying, but the evidence we're looking at says something else."
CNN's Nick Valencia reports that, although the investigation is still open (including determining any potential motive and a search for the missing handgun), police are "not looking for any more suspects … [and] are confident they got the right two guys." Police informed Valencia the two suspects were caught with West's description and by cross-referencing school attendance records, noting the small population of the 15,000 member community.
Sherry West seems certain that police are correct in their arrest of Elkins. Reviewing the mug shot taken of Elkins after his arrest, West stated: "That's definitely him."
Elkins's Facebook page contains the following quote: "Me in my ___ a turn your blo5k [sic] in to murder scene":

Debra Olbey, whose nephew is the unnamed 14-year-old arrested, gave Elkins a ride home that day and spoke to to the authorities. According to the local media report:
"When he [Elkins] got in the car, he laid down in the backseat. He kept looking around, peeping up and I said, 'Boy, what you doing? You skipping school?' You know, he said 'No ma'am.'" When she started asking for more questions, Obley said Elkins cut the ride short. "When he got out of the car, he had something hid up in his pants. It was a gun," said Obley. Obley says she felt something wasn't right, so she asked her nephew about it. "I said…if you've got something to do with this little baby, you can't talk to me. I'm your auntie," said Obley. "He said 'Auntie, I don't even know the boy. I don't have anything to do with that.'" Even though he wouldn't talk to her, Obley decided to talk to police. While it's hard to see her nephew behind bars, Obley said she feels she did the right thing. "It's wrong. That was a baby. That baby can't come back," said Obley. "That mama will never get that baby back. Whoever did it deserves to be behind bars." Obley said she doesn't believe her nephew would have fired at anyone. She hasn't talked with him since.
Olbey also stated her life is now being threatened as a result.
While West maintains the older suspect was the one who fired the shots, police are reportedly trying to determine which of the two arrested was the actual shooter.
On Saturday, police released the recordings of the three 9-11 calls made by West's neighbors after the shooting. Listen here for the audio:
Mediaite will update this tragic story as it unfolds.
UPDATE: On Sunday evening (March 24th), the Associated Press reported that an anonymous tip helped identify the suspects:
The Brunswick Police Department said Sunday that they got a tip that someone was crouched in the back seat of a vehicle as it drove away from the shooting Thursday. The Glynn County detective's division spent hours following up on the tip and eventually arrested a 14-year-old suspect. The boy's statements led them to take 17-year-old De'Marquise Elkins into custody.
UPDATE II (WITH PHOTO): On Monday morning, the suspects appeared in court. The unnamed 14-year-old is in fact now reported as 15-year-old Dominique Lane. Both face first-degree-murder charges. 17-year-old Marquise Elkins will be charged as an adult. Lane's mother, Brenda Moses, maintains his innocence. Meanwhile, 17-year-old Elkins's grandfather spoke at a press conference Monday, saying his grandson would never do anything like this.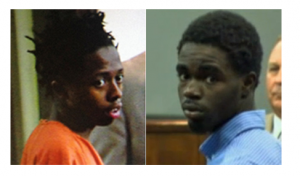 Photo courtesy of www.News4Jax.com
See the video below for various networks news' reports, including (two) clips from CNN, FoxNews, and MSNBC from 03/23/13:
Editor's note: This post has been updated since its original posting – Jon Nicosia
Have a tip we should know? tips@mediaite.com