U.S. Media To Stay In Iraq Beyond U.S. Troops: 'What Kind Of Country Does It Become?'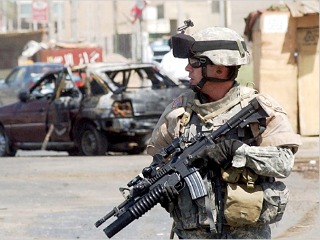 While 39,000 United States soldiers are likely beyond thrilled that they won't be planning to spend this New Years Eve in Iraq, the same won't true for some in the media. Major news outlets that have been covering the war in Iraq since its inception aren't quite ready to withdraw their own ranks just yet.
RELATED: War Is Over: Obama Will Have U.S. Troops Home From Iraq By Year's End
Capital NY reports that The New York Times, for instance, is aware that, simply because our troops will no longer be fighting, working and training in Iraq, this particular story arc is far from done and over with. In fact, the months to come will prove to be a crucial time in assessing what impact the U.S. and years of conflict have had on Iraq, its government and its people:
When you take America out of the equation, what kind of country does it become?" asked The New York Times' foreign editor Joe Kahn. "We're not going to stop covering the country because the American military has pulled out. We'll continue to watch the story."
As such, the paper will keep three full-time correspondents in that country in addition to its network of local stringers. The NYT's Tim Arango will remain as its bureau chief in Baghdad.
In addition, The Wall Street Journal and Reuters also have plans to maintain a presence in Iraq in the near future, as do CNN, NBC News and ABC News. The AP, meanwhile, which has lost three staffers in Iraq since 2003, is "still assessing the situation."
h/t Capital NY
Have a tip we should know? tips@mediaite.com