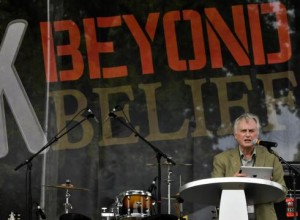 "There are no atheists in foxholes." That's a concept that some soldiers in the U.S. military tried to change yesterday by hosting a concert yesterday at Fort Bragg in North Carolina to bring attention to the atheists in the army. Rock Beyond Belief, according to USA Today, was "the most visible sign so far of a growing desire by military personnel with atheist or other secular beliefs to get the same recognition as their religious counterparts."
RELATED: Don't Stop Believing: Army's "Spiritual Fitness Test" Upsets Some Soldiers, Courts Lawsuit
The military director of American Atheists claims that their beliefs have been marginalized within the military, not being able to organize meetings of atheist soldiers. Several hundred people turned out yesterday, even with rain pouring for most of the morning.
They made sure to clarify that the event was not about making fun of or disparaging religious soldiers.
In the weeks leading up to the event, some bloggers and others expressed concerns. A chaplain currently deployed in Afghanistan posted an open letter on Fort Bragg's Facebook page, saying he feared the event would be devoted to mocking religious soldiers.

"We're never antagonistic toward religious believers, we're antagonistic toward religious belief," said Richard Dawkins, the British biologist and best-selling atheist author who was the event's headline speaker.
RELATED: Maher's New Rule: Atheism And Religion Are 'Not Two Sides Of The Same Coin'
The concert yesterday was put together thanks to donations totaling over $70,000 from the Sitefel Freethought Foundation. Todd Steifel, the founder, said he hopes that events like these are not necessary in the future, because he personally believes that the government has no place "hosting events geared towards religious belief of lack of it."
h/t USA Today
Have a tip we should know? tips@mediaite.com
Josh Feldman - Senior Editor