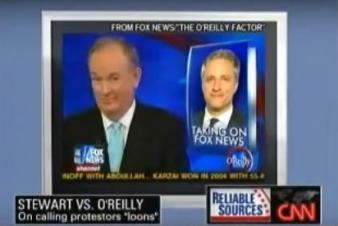 After Bill O'Reilly's fact-checking of Jon Stewart's Fox News smackdown, the whole exchange got the Reliable Sources treatment today.
One of the central questions raised – what is more important for a comedy/news hybrid like The Daily Show: being funny or being accurate?
Anne Kornblut of The Washington Post brought up the question:
I'm glad he has a new target besides Olbermann. There's a new fight going on. Look, we have to be…I think all of us here are careful about how we describe the protesters and giving them credence. They operate in a different universe. And certainly, I think, Jon Stewart's goal in all of this is to be funny first and probably accurate first-ish.
Is it okay that Stewart operates in a world where he's only accurate-ish? We've raised questions with segments that were both funny and, at the very least, misleading before. And at a time when people view Stewart as such a stalwart of the news industry, taking some license with selective editing – for the sake of comedy – is not entirely fair.
Stewart's interviews can at times be brilliant, and his media critique especially relevant. But the accurate-ish portions of The Daily Show give fodder for people like Bill O'Reilly to brush him off.
Another guest David Frum raised a separate issue: shouldn't cable news networks be providing more comprehensive coverage? He said they should be asking, "Look, we're a cable show, we're the middle of the day, not a lot of people are watching anyway. Why not use this time to really explain what's going on, dare to go into a little bit more in depth than the old network news did?"
That sounds like wishful thinking-ish to us.
Here's the clip:


Have a tip we should know? tips@mediaite.com