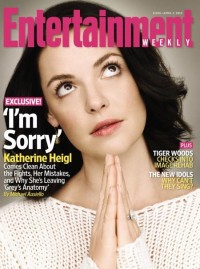 MediaWeek is reporting today that Time Inc. title Entertainment Weekly will soon be changing their publishing schedule so that the magazine will show up to its subscriber base and newsstands on Friday. This new move is meant to attract more advertising dollars from retail and food industries because readers will now get their issues in advance of the weekend. While the knee-jerk reaction by many is that this is a sure sign of EW's imminent demise, the truth is that it's actually a vote of confidence by Time Inc., and more likely means that it will be around for a long time.
It has been axiomatic in publishing circles that weekly magazines have long been most vulnerable to the new digital information age in which we now find ourselves. Adding to that a historic ad recession for the last year or two, publishers have found themselves in what's been called the "perfect storm" for weekly titles. And as we have written before, Entertainment Weekly has not been immune to rumors of its imminent demise, at least its print version.
Its in that context that MediaWeek's Lucia Moses reports
With entertainment news available on TV and the Web 24/7, Entertainment Weekly is under pressure to get its highly perishable programming content to subscribers in time to plan their weekend viewing, or it risks irrelevancy.

To preserve that relevance, the Time Inc. weekly is tweaking its delivery schedule to get copies to its 1.7 million subs earlier. Starting with the April 9 issue, 97 percent of subscribers will get delivery by Friday, up from 89 percent now. Newsstand copies (less than 3 percent of circulation) for the most part will still go on sale Thursday and Friday.

EW will have to move its close 12 hours earlier to 3 p.m. Tuesday for the delivery change, as Time Inc. sibling People recently did, giving staffers less time to break news.:
The quick reaction is the tired cliche that EW is just "rearranging the deck chairs on the Titanic." In fact, a former Entertainment Weekly EIC (and current Twitter-obsessed gadfly) Jeff Jarvis tweeted that very idea, writing: "Hate to say it, but my old EW is going into deck-chair mode."
Well here's where he's wrong. To ensure that EW gets delivered by Friday each week, Time Inc. has decided to add a fourth printing plant. As publisher Ray Chelstowski told MediaWeek, the addition of a fourth plant to move up delivery is "a big investment the company's making in the brand." He's right, and perhaps the reason behind this move is that ad pages at the magazine have been up 28% in the first quarter of 2010. More importantly, the move to a pre-weekend delivery schedule is nothing new in the world of weekly magazines; People made a similar move a few years ago, as did US Weekly, and both moves have been viewed as both smart and successful strategic moves.
Is Entertainment Weekly now "out of the woods?" Absolutely not; shifting their publishing schedule does not make them immune to the market pressures they faced earlier. But to immediately claim this is bad news reveals how little one understands about the current business model, and neglects to recognize the enormous financial backing Time Inc. is committing. It's not a sign of imminent demise – its a huge vote of confidence.
Have a tip we should know? tips@mediaite.com