The Young Turks Pressure News Outlets to Retract Claims of 'Violence' at Nevada DNC Convention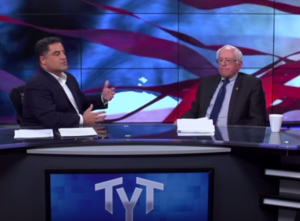 The members of the massively popular online news show, The Young Turks, have no problem letting viewers know where they stand on any given issue. They are beholden to no network. They are casually blazing their own path all over the place and vocally supporting Bernie Sanders as they do it.
Recent Sanders news has centered around his followers instigating a ruckus at a Nevada Democratic convention. One of his delegates spoke out yesterday, saying that calling what happened "violence" wasn't quite right. So, too, have the TYT crew.
Behold TYTer and occasional Mediaite contributor Jordan Chariton pointing out that Politifact found no evidence of the reported violence at the rally:
Politifact: "There's no clear evidence of a chair being thrown"…waiting for @CNN @msnbc correction https://t.co/lkS0vtYm5Y

— Jordan (@JordanChariton) May 19, 2016
Here is Cenk Uyger highlighting that NPR is walking back language about chairs being thrown in their reporting on the events:
Via @NPR: Fact-Checking NPR's Reports On Vegas 'Violence' https://t.co/yuOGOmKfzu No evidence of violence! Will other media correct?

— Cenk Uygur (@cenkuygur) May 19, 2016
Ana Kasparian, while not directly calling on any organizations or leaders to change their language, brought up that the "dangerous" narrative is not new:
Sen. Boxer has been pushing the narrative that Sanders & his supporters are dangerous/angry for a while – https://t.co/hutvnkC7rP

— Ana Kasparian (@AnaKasparian) May 18, 2016
As you can see from the tweets, they are angling to get all news outlets to retract claims of "violence" and inherent danger from inside the campaign and its supporters.
Do you think the big networks will budge in light of the NRP walk-back and Politifact ruling?
[image via screengrab]
For more from Lindsey, head to Twitter and Facebook.
Have a tip we should know? tips@mediaite.com