If Democrats Were Smart, They'd Make Alexandria Ocasio-Cortez the Face of Their Party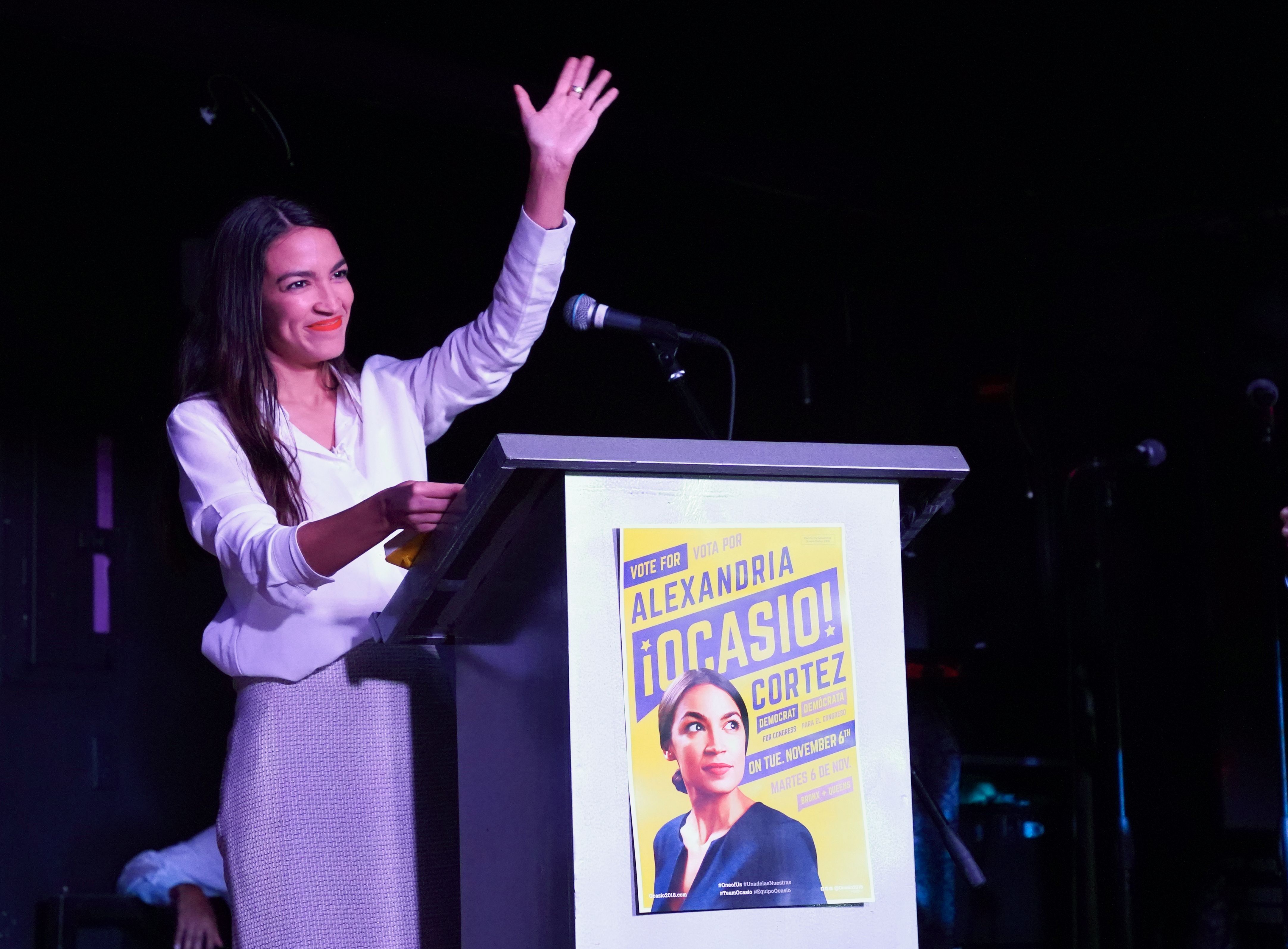 Democratic House Speaker Nancy Pelosi (D-CA) and Senate Minority Leader Chuck Schumer (D-NY) have been mocked incessantly since their response to President Donald Trump's Oval Office address last night; just ask today's MSNBC panelists.
"I don't think they wanted to do it. I don't think they should've done it. And I guarantee you at the staff meeting tomorrow morning, somebody is gonna get, you know, chewed out pretty good about this whole thing,"  said former Democratic strategist James Carville, to MSNBC's Brian Williams. "I've been more excited about colonoscopies than he was giving his speech tonight. He didn't want to be there!"
"This Chuck and Nancy visual tonight launched a thousand memes while they were still talking," Williams said, laughing. "There was an American Gothic meme, there was a 'Your mother and I are very upset you stayed out so late' meme. And someone has to account for Bobby Jindal his guest appearance in Gone with the Wind and for [Sen. Marco] Rubio (R-FL) drinking water. But this visual from tonight goes down in the pantheon."
Indeed, if you check 'The_Donald' subreddit on Reddit, you'll find dozens of memes mocking the spectacle, just like this one: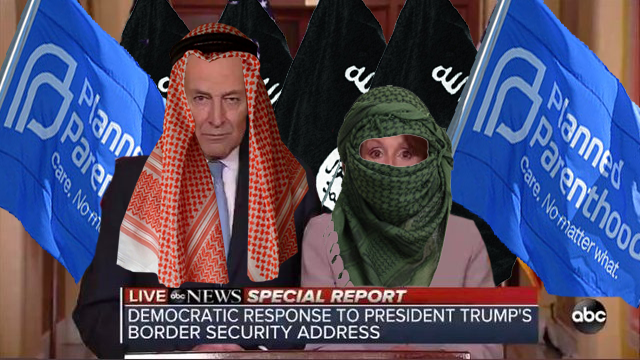 …and this one: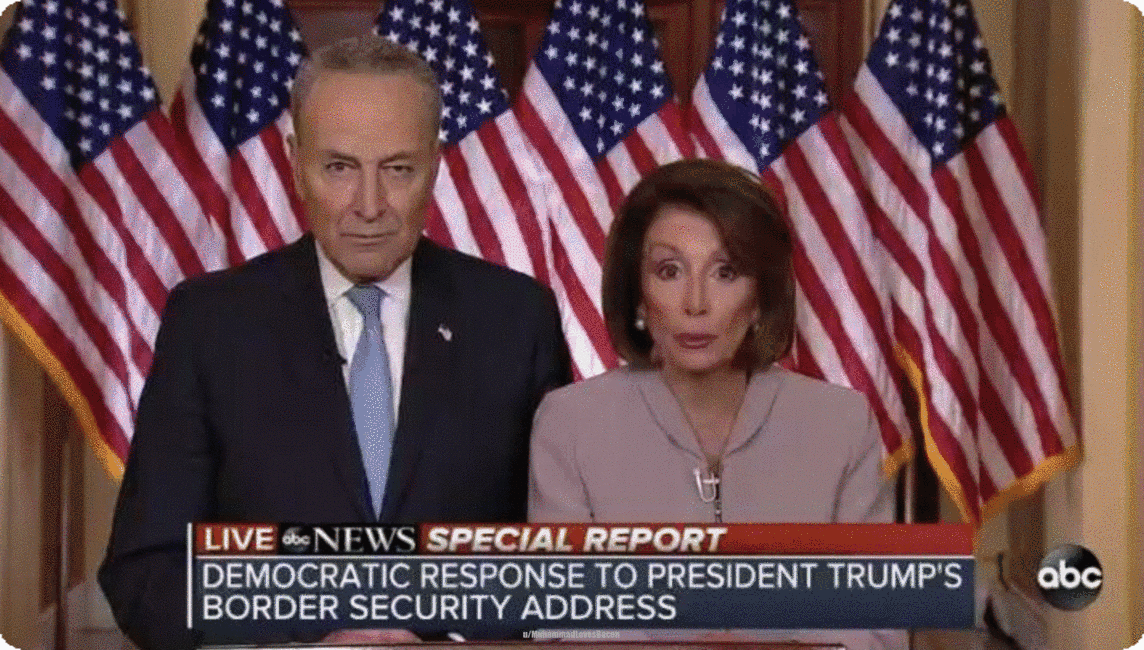 …and this one: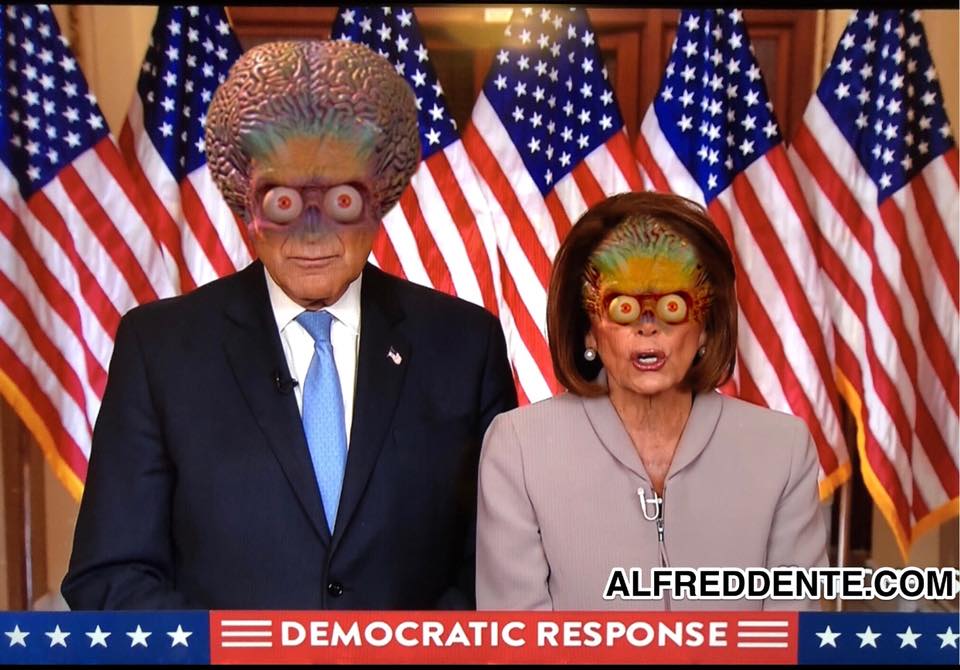 Sure, you can say that a lot (if not most) of these memes are coming from the political right, but if the political left knew how to meme as well as conservatives, you know they'd be thinking the same thing.
Williams and Carville are not the only two people on the left who are finally publicly getting to notice the un-likability of establishment-type Democratic leaders.
If you Google 'face of the Democratic party" and limit search results to the past 24 hours, you'll find a series of articles, mostly from the left, decrying Democratic leaders like Schumer, Pelosi, former Vice President Joe Biden, and Massachusetts Senator Elizabeth Warren (D-MA) as being 'too old, too white.' For a party that prides itself on representing cool, hip, young people's interests and demographic diversity, that's a hard burn.
Establishment Democrats have two options to try to avoid the kind of memes that spread across the Internet on Tuesday night: Either to stop branding themselves as the party of hip, cool, young people interests and demographic diversity, or, embrace newly elected Democratic Congresswoman Alexandria Ocasio-Cortez (D-NY) as the new face of the party.
This may not happen, as we've already seen some of Ocasio-Cortez's spats with Washington Post writers and other mainstream Democrats who see her as too radically far-left and a threat to the party's core principles. But it would be in their own best interest to do so.
We've seen the young congresswoman's rapid ascension in D.C. politics, and the massive feedback she's received on social media. People like her, and they don't care that she believes elephants can text.
In an era of the populist candidate, it's going to be the most relatable candidate, not the most well-read or well-educated, that wins the podium. We saw that with Republican President Donald Trump. The winners of the Republican party were those who embraced Trump, even if they didn't believe in his platform, and tried to influence him in their direction.
The benefit of appointing a populist 'outsider' as the face of your party is that the populist is generally more likely to follow your influence with just a bit of emotional support and moral sense of trust. In the case of Ocasio-Cortez, there's the big plus that she is young, female, less established financially, and incredibly malleable when it comes to politics.
If establishment Democrats had any brains, they'd make Ocasio-Cortez the face of their party and befriend her into supporting their policies and ideas.
[featured photo via Getty Images]
This is an opinion piece. The views expressed in this article are those of just the author.