Fox & Friends' Hegseth Trashes NY Times For Not Covering ISIS Capture Story First Reported by NY Times
Fox & Friends guest host Pete Hegseth had some fun mocking his favorite punching bag on Friday morning: The New York Times, which he proudly calls the "Failing New York Times," a genius witticism he borrowed from Trump.
Fox & Friends covered President Donald Trump's tweet on Thursday announcing that "Five Most Wanted leaders of ISIS just captured!"
Five Most Wanted leaders of ISIS just captured!

— Donald J. Trump (@realDonaldTrump) May 10, 2018
In light of that fantastic news, Hegseth celebrated by mocking the New York Times for failing to cover the story. He proudly declared that he had flipped through Friday's print edition of the paper, and didn't see a trace of the good news.
"I looked for the five ISIS leaders captured in the Failing New York Times," Hegseth said. "And in the print edition today I have not seen it yet."
Lamestream media bias at its very worst!
Not exactly: despite Trump's tweet on Thursday claiming the ISIS leaders were "just captured," they were actually captured in early spring. And the New York Times was the first American media outlet to report on the capture, a day before the president announced the news on Twitter.
In a report published online Wednesday night, and featured in the paper's Thursday edition, which Hegseth must have missed, the Times reported the story: "Five Top ISIS Officials Captured in U.S.-Iraqi Sting."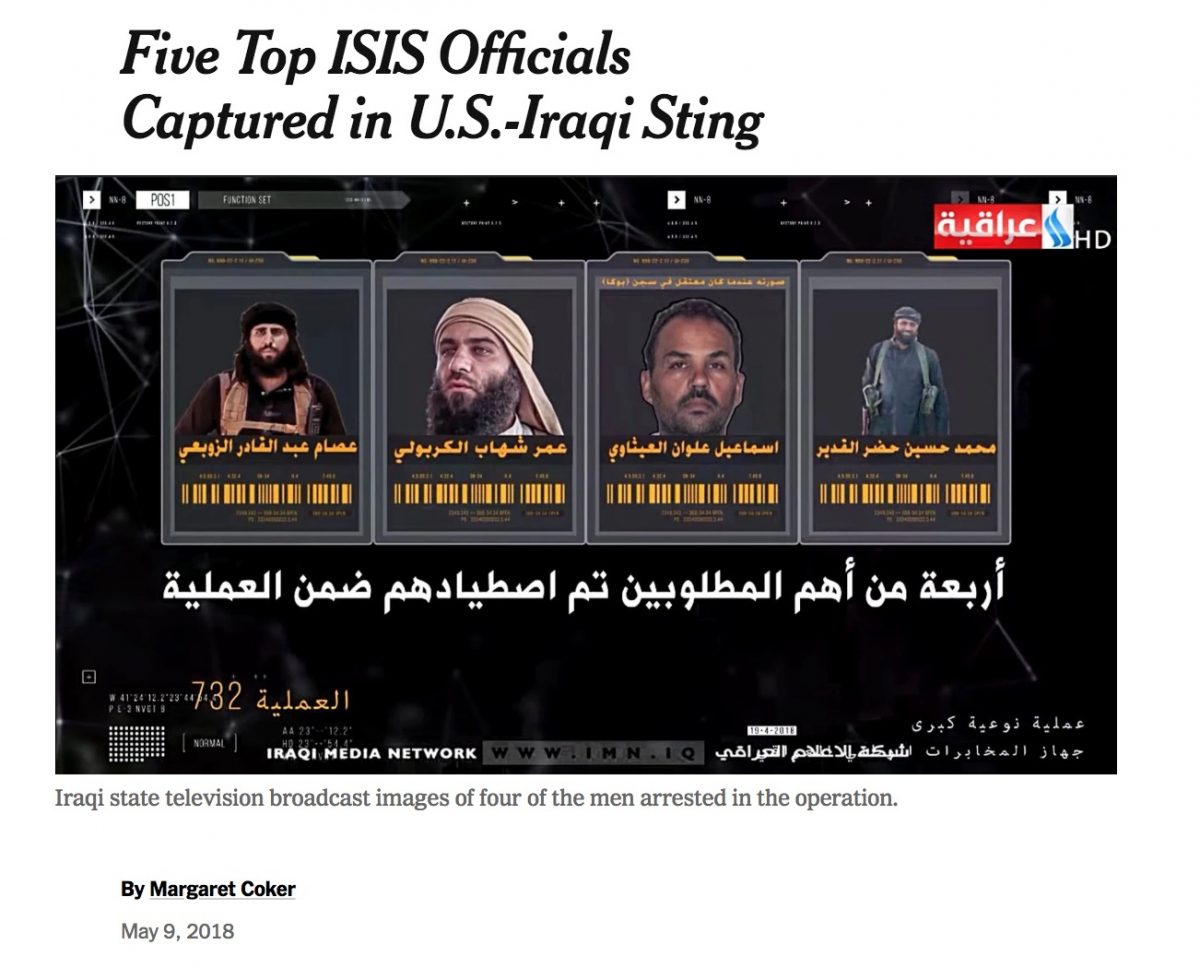 That report — published on Wednesday evening after the news was covered by Iraqi state television — was written by Baghdad bureau chief Margaret Coker, who confirmed the captures with two Iraqi officials.
Watch above, via Fox News.
[image via screengrab]
—
Follow Aidan McLaughlin (@aidnmclaughlin) on Twitter
Have a tip we should know? [email protected]
---
Aidan McLaughlin - Editor in Chief