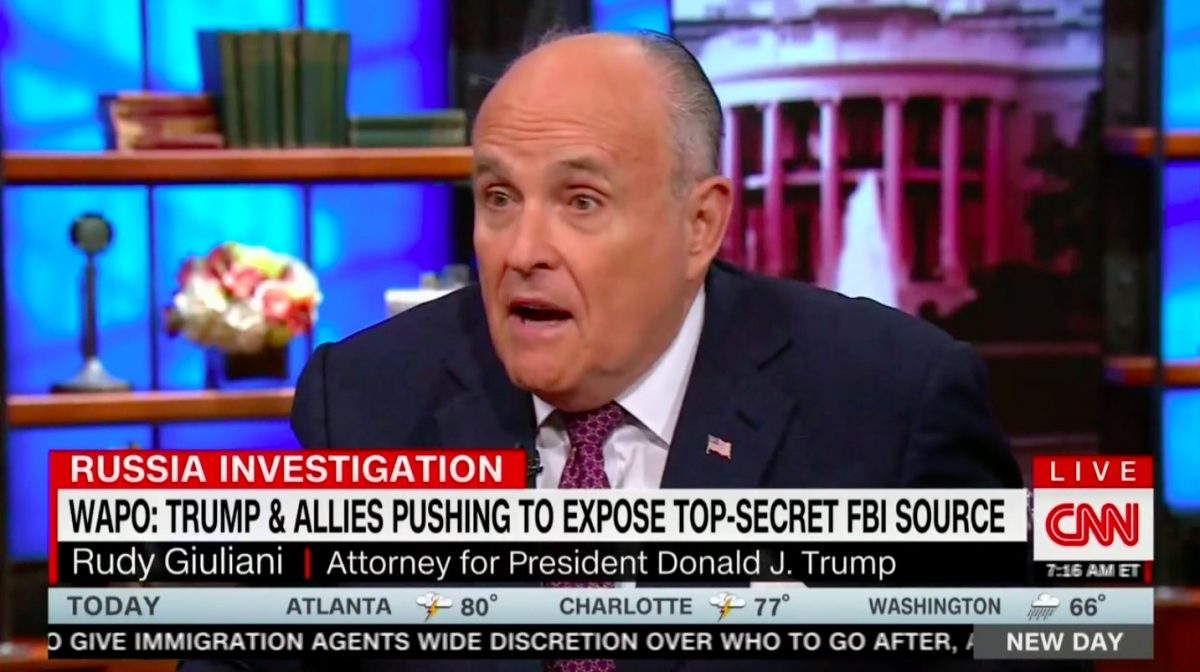 Rudy Giuliani, President Donald Trump's new lawyer who has taken the fight against special counsel Robert Mueller's Russia probe to cable news, faced perhaps his most trying interview yet early Friday morning. The former New York City Mayor slugged it out with morning television's most confrontational anchor, CNN's Chris Cuomo, in a marathon session during which the duo sparred over every aspect of the Russia investigation — from its humble beginnings as an FBI inquiry through to the special counsel's full-fledged probe.
Giuliani made some news, admitting that neither he nor President Donald Trump actually knew whether the FBI had a "spy" embedded in the Trump campaign, and said Attorney General Jeff Sessions should shut down the Mueller probe. He also made sure to take gratuitous shots at CNN and Cuomo, in a wink to the boss.
But this is Rudy Giuliani we're talking about. So throughout the live, 45-minute showdown there were also plenty of bizarre moments. Here are the Top 6:
1. Giuliani jokes that his car accident was the result of him opening the car door to stop Chris Christie from "destroying the pedi cab"
Cuomo opened the interview by asking Giuliani was doing alright in light of reports he was in a minor accident in a pedicab in Manhattan on Thursday. The CNN host joked that he heard Giuliani tried to pummel a squeegee guy with the cab's door.
"Actually I saw Chris Christie and I wanted to prevent him from destroying the pedicab," Giuliani replied.
2. Cuomo mocks Giuliani for citing reporting in the New York Times
Giuliani reiterated his claim that the FBI's investigation into the Trump campaign's ties to Russia did not find evidence of collusion, citing an extensive New York Times report as his evidence.
"Let's just go on the record here also," Cuomo said. "Rudy Giuliani, the president's lawyer, is using The New York Times as a good source. A source that the president assails only to suit his advantage. It's good to hear you own that the media should be trusted."
"Every once in a while," Giuliani conceded.
3. Cuomo tries to confront Giuliani with a video of his past remarks, Giuliani just rants through the video until Cuomo relents and takes it down
After Cuomo asked about Trump potentially facing a subpoena from Mueller, Giuliani replied, "it never occurred to me that they would try and subpoena a president." That remark is at odds with comments Giuliani made back in 1998, when he said then-President Bill Clinton would have to respond to a subpoena.
When Cuomo tried to play the clip of those 1998 comments, Giuliani lost it, protesting, "It's not even relevant!"
Giuliani then proceeded to talk — with his mic off — at Cuomo as the video played. When his mic got turned back on, he cried "That's really unfair."
"What you're doing right now is extremely unfair. It's the reason people do not come on this show — with all that promoting of Avenatti, the ambulance chaser?!"
4. In a "Freudian slip," Giuliani gives reasons for firing Deputy AG Rod Rosenstein
As Cuomo grilled Giuliani on Trump's varied reasons for firing FBI Director James Comey, the lawyer suggested there could have been multiple reasons to fire the former Bureau chief.
"How about there are five reasons to fire Rosenstein," Giuliani posited, before realizing what he had said, making an Oh shit face. "Freudian slip!" Cuomo said, and Giuliani laughed.
"There's going to be no one left if you guys have your way," Cuomo quipped.
Trump has reportedly mulled firing Rod Rosenstein, and sought advice on aides about doing so.
5. Giuliani mounts the "Martha Stewart" defense against sitting down with Mueller
When explaining to Cuomo the pitfalls of Trump sitting down for an interview with Mueller, Giuliani expressed the oft repeated fear that the special counsel would try to catch the president lying to federal investigators.
"The president would testify tomorrow if it was about truth," Giuliani declared. "It's like Martha Stewart. Martha Stewart never would have gone to jail if she hadn't gone and testified. What do you think, we're stupid?!"
"She lied!" Cuomo protested.
"Ugh," Giuliani replied. "Arguably."
The two then fiercely sparred over whether Trump lies.
6. Giuliani gives Cuomo a lesson in Journalism 101
Arguing that the New York Times "buried the lede" in the paper's extensive report detailing the FBI investigation into Trump's campaign, Giuliani claimed that the headline of the story should have been: "FBI Clears Trump Before Mueller Probe."
"I just learned that the word 'lede' is spelled L-E-D-E!" Giuliani told Cuomo excitedly. "Jeez."
"The lede is Trump cleared!" Giuliani said.
Watch the madness above, via CNN.
[image via screengrab]
Have a tip we should know? tips@mediaite.com
Aidan McLaughlin - Editor in Chief