Attkisson: There's a 'Well-Orchestrated Strategy to Controversialize' Benghazi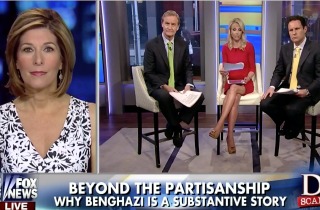 Former CBS News reporter Sharyl Attkisson joined the hosts of Fox & Friends on Monday and was asked for her thoughts on apparent efforts by former Obama administration officials Tommy Vietor and David Plouffe to dismiss the latest revelations about the response to the Benghazi attack. The former CBS reporter said that she believes there is a concerted effort to delegitimize investigations into that deadly 2012 attack orchestrated by people close to the White House.
Attkisson was asked for her thoughts on how the White House has reacted to the latest release of emails pertaining to the response to Benghazi, particularly Plouffe's appearance on ABC News' This Week in which he said the investigation into the attack was driven by a "delusional minority" of the GOP.
"The key words they use, such as 'conspiracy' and 'delusional,' are in my opinion clearly designed to try to controversialize a story — a legitimate news story and a legitimate area of journalistic inquiry," Attkisson submitted.
RELATED: Ingraham To Liberals On Benghazi 'Politicization': 'You Guys Are Masters at This. It's Fox News' Fault'
"To some degree, that's successful," she added. "But I think primarily among those that don't want to look at this as a story in the first place."
"I see that as a well-orchestrated strategy to controversialize a story they really don't want to hear about," Attkisson continued.
Attkisson concluded by saying that she does not believe journalists will be intimidated away from covering the revelations surrounding the Benghazi attack, and added that she would be left covering nothing but the weather if she allowed herself to be "influenced by the left-wing blogs."
Watch the clip below via Fox News Channel:
[Image via screengrab]
— —
>> Follow Noah Rothman (@NoahCRothman) on Twitter
Have a tip we should know? [email protected]