Author of NY Times' Benghazi Report: Susan Rice Made 'Some Clear Misstatements'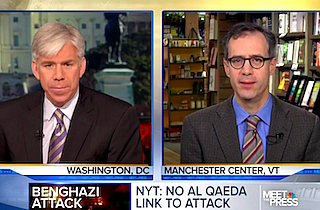 David Kirkpatrick, author of this morning's New York Times report alleging no al Qaeda role in Benghazi, appeared on Meet the Press and explained to host David Gregory how the term al Qaeda had been misused by administration critics, but also that it didn't make then-U.N. Ambassador Susan Rice's initial statement on the attack entirely correct.
"There is just no chance that this was an al Qaeda attack," Kirkpatrick said, "if, by al Qaeda, you mean the organization founded by bin Laden. I've tried to understand some of the statements coming out of Congress blaming al Qaeda for this, and the only way they make sense to me is if you're using the term al Qaeda a little differently. If you're using the term al Qaeda to describe even a local group of Islamist militants who may dislike democracy or have a grudge against the United States, if you're going to call anybody like that al Qaeda, then okay, certainly there were some anti-western Islamist militants involved in this attack. But to me that's a semantic difference and not a useful way of answering the original question, which is, did the group founded by Osama bin Laden lead this?"
RELATED: Gregory, Mitchell Grill Issa Over Benghazi Report: Did You Use al Qaeda as 'Hot Button' During Election?
But when Gregory said Rice's initial assessment, that the attack was a spontaneous event, had been "bolstered" by Kirkpatrick's reporting, he interrupted.
"No, we're not bolstering that original assessment," Kirkpatrick said. "In fact, she made some clear misstatements there. This was not a street protest and it was not a copycat of what happened in Cairo. That was an unarmed street protest. This was a group of armed men, who, inspired by a video, deliberately attacked the compound. So what she's doing there through her misstatement is actually setting up kind of a false dichotomy. Either it was a spontaneous street protest or it was an armed terrorist attack. Neither of those turns out to be exactly the case. It was an armed terrorist attack motivated in large part by the video."
Watch the full clip below, via NBC News:
[Image via screengrab]
——
>> Follow Evan McMurry (@evanmcmurry) on Twitter
Have a tip we should know? tips@mediaite.com