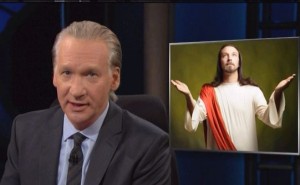 After suggesting Republican voters were being "promiscuous" for cycling through their favorite candidates (or "flavors of the week," as Sarah Palin might say) in the presidential race, Bill Maher wondered how a hypothetical candidacy by none other than Jesus Christ would play out in modern times.
Maher's impetus to question the varying tastes of the GOP crowd was the latest speculation over Chris Christie and whether the New Jersey governor would enter the Republican race. Maher compared the calls for Christie to run to previous "hot" candidates like Michele Bachmann and Rick Perry, until voters discovered their character flaws and moved on.
And Maher immediately characterized the Christie speculation the same way. Pointing out his support of civil unions and the "Ground Zero mosque," Maher showed the most damning piece of evidence yet: Christie holding hands with President Barack Obama and not recoiling in fear and horror. In fact, Maher was so convinced that Republicans would never be satisfied with any candidate, even Jesus himself would not be a nominee the Republicans would be able to support.
He walked us through a hypothetical day in the life of a Jesus Christ 2012 campaign, imagining all the attacks that would be thrown his way by other candidates.
"A Gingrich spokesperson reports that he read Jesus' book, and finds some aspects of it troubling. Mitt Romney says Jesus' previous statements make him appear anti-business. And Rick Perry asks if America is ready for a Jewish president."
Maher also pointed out that Jesus' foreign birth and lack of a birth certificate would be instant turnoffs, and at some point the son of God might be so desperate for a surge in the polls, he may seek out a meeting with the wise man of New York: Donald Trump.
Watch the video below, courtesy of HBO:
Have a tip we should know? tips@mediaite.com
Josh Feldman - Senior Editor