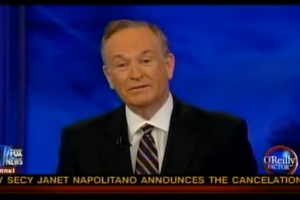 In light of last week's horrific shooting in Arizona, it seems many in the media are understandably shaken and some are thinking twice about the state's comparatively loose gun laws, though some have expressed this with more tact than others. After Tom Brokaw confessed on Morning Joe that he would be "nervous going into a bar" in Arizona, Bill O'Reilly, like others, made light of it, but did so by joking about Brokaw being shot.
In his "Dumbest Things Of The Week" segment with Greg Gutfeld and Arthel Neville last night, O'Reilly found the comment comical, and tried to imagine a scenario in which Brokaw would be at a bar in Arizona, and "you're sitting there eating your can of peas, and somebody comes over and says 'you're Tom Brokaw– bang!'" Both O'Reilly and the panel had a hearty laugh, though they ultimately decided to give Brokaw a break because the comments were made early and on live TV and one cannot be expected to be at their maximum eloquence at the time.
While no one on the panel seemed uncomfortable with the joke, and it was clear that O'Reilly was joking, it has been only a week since a Congresswoman was shot in the head, perhaps too soon for some in the media to be light-heartedly fantasizing about the shootings of public figures. After all, O'Reilly has gotten into hot water for much milder comments in political climates much less tempestuous than this one.
The segment via Fox News below:

[h/t Business Insider]
Have a tip we should know? tips@mediaite.com