O'Reilly, Ingraham Clash Over Whether Romney Should Be 'Folksy' Or Go For Obama's Throat At Debate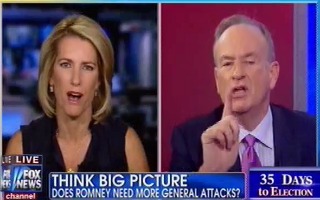 On Tuesday, conservative radio host Laura Ingraham and Bill O'Reilly, host of Fox News Channel's The O'Reilly Factor, appeared on Fox & Friends to give Mitt Romney advice ahead of the first presidential debate on Wednesday night. Ingraham and O'Reilly got into a heated argument over whether Romney should be "folksy" and "friendly" or if he should go for the kill and risk coming off as angry in comparison with President Barack Obama.

Asked what Romney has to do on Wednesday night, Ingraham said that his campaign is probably surprised that Obama has a vulnerability to exploit on foreign policy. She said his campaign should make the North Africa attacks a focal point in the argument against Obama she does not think "he can blame George Bush for this."
Brian Kilmeade asked O'Reilly if Ingraham was correct, noting that the Libya issue has been out for some time but the head-to-head presidential polls have been static.
"I don't think the folks are locked in on it," said O'Reilly. He said that Obama only has to be himself, while Romney has to make the case for him as an alternative. "He has to paint the president as an incompetent," said O'Reilly. "Now, this Libya thing can be a part of that, but certainly the economy is way more important for the folks than Libya."
Gretchen Carlson warned that Romney may be taken to task by the press if he goes into "attack mode" against Obama. "He can't care about the press," O'Reilly said. "He's got to smack the president like Laura Ingraham would smack him."
Kilmeade said that Romney's job is easier than was Sen. John McCain's four years ago, because Obama now has a record to defend. "What Romney should be doing right now is watching Ronald Reagan take apart Jimmy Carter," said O'Reilly. "The way that Reagan did it was authoritative but kind of folksy."
Ingraham took issue with that. O'Reilly said he never showed malice on his program. "One of those crazy right wing talk show hosts is off the air – Savage? Isn't he off the air? Because he's malicious," said O'Reilly.
"First of all, Michael Savage, you may not like him but he has millions of people who follow him because he's a talented broadcaster," said Ingraham over O'Reilly's objections.
"I'm sorry, Laura. You're wrong," said O'Reilly. "If Romney starts to do that without Reagan-esque…"
"When has Romney ever done that," asked Ingraham. "You're creating paper tigers, Bill." She said that Romney appeared presidential at the Clinton Global Initiative and the NBC education forum and if he shows up at the debate in the same form, he will win.
Watch the clip below via Fox News Channel:
> >Follow Noah Rothman (@Noah_C_Rothman) on Twitter
Have a tip we should know? [email protected]