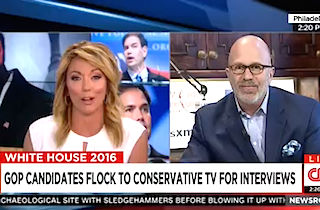 CNN's Brooke Baldwin has noticed a pattern when it comes to Republican presidential candidate announcements so far this year. On the same days they made their campaigns official, both Sen. Ted Cruz (R-TX) and Sen. Rand Paul (R-KY) sat down for hour-long interviews with Fox News' Sean Hannity. Tonight, Sen. Marco Rubio (R-FL) is scheduled to do the same.
"These multiple Republicans coming out saying, 'Yep, i'm running for president' and then hopping over to Fox Fews channel, over to Hannity, that's their out of the gate interview," Baldwin told Michael Smerconish on Monday. "I'd love for them to come here or come to you, but do you think it would be advantageous to go somewhere where they may be challenged a bit more? Less softball, more pointed?"
Smerconish did not fault the "intensity" of the questioning from someone like Hannity, but said for these candidates it's "all about the base."
"Where do you want to go if you want to reach older white males?" he asked. "It's to Fox News and it's to that program in particular, because those are the individuals who carry the most sway in the primaries and the caucuses. So they're going where the votes are, but Brooke, here's the kicker. They can go there in primary season, and that can be a successful strategy. That is not how you win a general election. Sooner or later, you better be on CNN."
"Amen," Baldwin replied.
Describing Cruz's interview with Hannity in particular, MSNBC's Chris Matthews was even less generous, asking, "Do we call that an interview?"
While both Cruz and Paul stuck close to Fox right out of the gate, as Baldwin said, they do deserve some credit for getting out of there comfort zones over the last couple of weeks. Cruz popped up on CNN's State of the Union and later had some televised Mexican food with CNBC's John Harwood.
Meanwhile, Paul sat down for an especially contentious talk with NBC News' Savannah Guthrie and has made multiple appearances on CNN over the past seven days.
One reason GOP candidates might flock to Fox — aside from the usually more-friendly reception — is the large number of viewers they are able to reach. While Hannity is hardly the highest-rated show on Fox's primetime lineup, often trailing The O'Reilly Factor and The Kelly File by large margins, he still regularly garners more than a million total viewers. In a crowded Republican primary field, early GOP candidates need all the help they can get to rise above the fray and reach a committed conservative base. And there's still no more efficient way to do that than to visit Fox.
Watch video below, via CNN:
UPDATE — 4:30 p.m. ET: It looks like Rubio has accepted Baldwin's dare. The senator will sit down for an interview with one of CNN's toughest questioners, Jake Tapper, on tomorrow's edition of The Lead at 4 p.m. ET. Make sure to check Mediaite for coverage of the exchange.
Make sure to tune in tomorrow at 4p for @jaketapper's interview w/ Sen. @marcorubio #TheLead http://t.co/5M873L5vSZ pic.twitter.com/Zf28YI8geR

— The Lead CNN (@TheLeadCNN) April 13, 2015
[Photo via screengrab]
— —
>> Follow Matt Wilstein (@TheMattWilstein) on Twitter
Have a tip we should know? tips@mediaite.com