Cable News: The Fiscal Cliff Is 142 Times More Important Than the Violence Against Women Act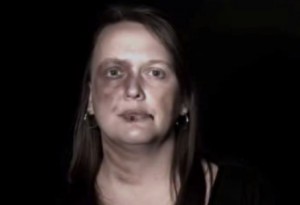 The issues surrounding violence against women never get the attention they deserve from the media, let alone the right kind of attention, but the disparity between two competing legislative priorities brings that fact into sharp relief. While the negotiations over the looming so-called "fiscal cliff" are of unquestionable political importance, they have seemingly blotted out the sun on cable news. By contrast, the Violence Against Women Act, which must be reauthorized before the end of this Congress, has largely been ignored.
The fiscal cliff has dominated cable news coverage since President Obama's reelection, but it's not as if they don't find time to cover anything else, and you would think that an issue like the Violence Against Women Act, which requires urgent action, and dovetails with other recent news stories, would receive at least a significant fraction of the coverage, say 10%, or maybe 5%? You would be wrong.
A search of the TV Eyes television transcription database shows that, since last Wednesday, the term "fiscal cliff" has been used, on cable television, 4,679 times, while the Violence Against Women Act has been mentioned… 33 times. Twelve of those were from MSNBC, twenty were on C-Span, and Sen. Dick Durbin (D-Il) mentioned it once on Fox News. Just to give you some idea, during that same timeframe, sportscaster Bob Costas, who made headlines by commenting on the murder of Kasandra Perkins by Kansas City Chiefs linebacker Jovan Belcher almost two weeks ago, merited 213 mentions, nearly seven times as many. Even imaginary violence gets much more attention, as the phrase "War On Christmas" scored 76 mentions since last Wednesday.
Jovan Belcher's murder of Kasandra Perkins, and subsequent suicide, provoked some discussion of domestic violence, but that was largely drowned out by gun control and outrage at Bob Costas. It's a little early to tell if the story of  Patrick Moran's guilty plea on charges of assaulting his girlfriend, and Rep. Jim Moran's (D-VA) sick enabling of, and covering for, his son's behavior, will penetrate to the broader political media, but like the fiscal cliff, the Violence Against Women Act shouldn't need some supplemental news peg to make it worthy of conversation.
Enacted in 1994, and spearheaded by then-Sen. Joe Biden, the Violence Against Women Act has had a demonstrable effect on violence in America:
Since VAWA was first passed in 1994:

Reporting of domestic violence has increased as much as 51%.
All states have passed laws making stalking a crime and have strengthened rape laws.
The number of individuals killed by an intimate partner has decreased by 34% for women and 57% for men.
After using VAWA funding to institute a Lethality Assessment Program, Maryland's intimate partner homicides have been reduced by a remarkable 41% over four years (July 2007-July 2010).
A 2010 study demonstrated that an increase in the number of legal services available is associated with a decrease in intimate partner homicide.
A 2009 Department of Justice Study found Kentucky saved $85 million in one alone year through the issuance of protection orders and the reduction in violence they caused.
VAWA saved $12.6 billion in its first 6 years alone.
States have passed more than 660 laws to combat domestic violence, dating violence, sexual assault and stalking. All states have passed laws making stalking a crime and changed laws that treated date or spousal rape as a lesser crime than stranger rape.
Since 1996, the National Domestic Violence Hotline has answered over 2 million calls. The Hotline receives over 21,000 calls a month and provides access to translators in 170 languages.
Businesses also have joined the national fight against violence. Hundreds of companies, led by the model programs established by Altria, Polaroid, Liz Claiborne, The Body Shop, Aetna and DuPont, have created Employee Assistance Programs that help victims of domestic violence.
More victims are reporting violence: among victims of violence by an intimate partner, the percentage of women who reported the crime was greater in 1998 (59%) than in 1993 (48%).
Currently, there are two versions of Violence Against Women Act reauthorizations. The Senate version was passed, with bipartisan support, by a margin of 68 – 31, in April, but House Republicans blocked the bill because they objected to provisions related to undocumented immigrants, Native Americans, and LGBT rights. The House passed its own version, which stripped those provisions from the Senate version, while also changing existing provisions within the law, in May.
According to The Huffington Post, many House Republicans are now urging Speaker of the House John Boehner and House Majority Leader Eric Cantor to get out of the way of the more inclusive Senate version:
House Republican leaders have already been under pressure to pass an expanded version of the Violence Against Women Act in the lame-duck Congress, but now that pressure is coming from within their own party.

On Tuesday, 10 House Republicans signeda letter authored by Rep. Gwen Moore (D-Wis.) and other Democrats urging House Speaker John Boehner (R-Ohio) and House Majority Leader Eric Cantor (R-Va.) to take up and pass a VAWA bill that covers all victims of domestic violence — much like the bill that passed the Senate — before Congress gavels out for the year.
Republican opposition to the VAWA reauthorization isn't as simple as "they hate teh browns and teh gays," although some of it is not far off from that. There are what could be seen as legitimate concerns about criminal jurisdiction over non-Native American offenders on Tribal lands, but ThinkProgress points out that congressional Republicans like Rep. Darryl Issa (R-CA) have proposed a compromise:
Even though the current Senate version of VAWA includes a full set of constitutional protections for suspects of abuse, including due-process rights and a right to counsel, Cantor and other Republicans continue to stall the VAWA Reauthorization because of baseless constitutional concerns for those accused of abusing Native women.

In the spirit of compromise within their own caucus, Issa and his colleagues proposed a powerful extra protection for defendants in their bill last week: a new right to remove the case to a federal court if the defendant's rights are violated by a local tribal court. Although advocates for Native women would prefer to see the Senate version passed, this compromise is a reasonable way to get a deal done and improve the system of justice on reservations.
There's also the issue of undocumented immigrants who are victims of domestic violence, whom the existing law allows to receive special visas if they cooperate with law enforcement, but with a cap of 10,000 per year:
The new version of VAWA wants to take those that were never distributed before and offer them to people who apply for the future, which would mean a temporary increase in the number of U Visas given out each year for a few years. Senator Grassley not only opposes this but also wants more restrictions on the U Visas by forcing victims to obtain doctor's notes to document their abuse and mandate that the abuse to be reported to law enforcement within two months of it taking place out of concern that immigrants are defrauding the government. To make such a claim is simply ridiculous- I would like to point out that US Citizenship and Immigration Office already has an anti-fraud unit in place to investigate these claims. Also, Law Enforcement officials themselves have to sign off that they believe Domestic Violence is taking place on the U Visa. If Law Enforcement is willing to sign off on it, it is because they themselves have already conducted an investigation into the claims.
Even if there was some evidence that large numbers of undocumented immigrants were willing to risk prosecution for lying to police, though, surely the value of protecting real victims of violence would weigh heavily against that imaginary concern. Like voter fraud, this is an objection in search of a problem, but at least it contains a kernel of something resembling logic.
Republican opposition to the provision that prevents VAWA grant recipients from discriminating against LGBT couples seems to be some weird matter of principle about the other guy's principles, or something:
Republicans agree that organizations receiving federal grants shouldn't discriminate against people on the basis of sexual orientation. They just don't understand why Democrats want to make it the law.

"I agree that shelters and other grant recipients should provide services equally to everyone," said Grassley. "But advocates of this provision haven't produced data that shelters have refused to provide services for these reasons." He added that the nondiscrimination provisions were "a political statement that shouldn't be made on a bill that is designed to address actual needs of victims."
Liberal sneering at Republican congressional leaders hasn't worked yet, and neither has pressure from the White House, or even from other House Republicans. Maybe if the media donates some of its excess fiscal cliff airtime to this issue, that will change. Do a segment on Jim Moran. Book Amanda Marcotte as a guest. Book some of the Republicans who want to see the bill passed. MoveOn.org and UltraViolet have just put out a tough ad in support of VAWA that would make perfect cable news fodder. Does it go too far? Does it not go far enough? Is it a threat to Christmas? I don't care how you do it, just talk about it.
Follow Tommy Christopher (@TommyXtopher) on Twitter.
Have a tip we should know? tips@mediaite.com