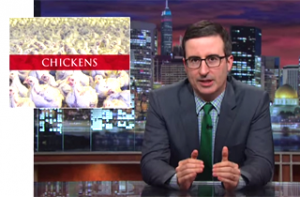 John Oliver's segments tend to rile up their subjects due to his tendency to systematically dismantle him, and he once noted that his lawyer is very busy fighting off their complaints. This week, he is in a war with the vast, insidious institution known as…chicken special interest groups.
Weeks ago, Oliver ran an 18-minute segment on the pressures farmers face from large-scale chicken producers, including Tyson Foods and Perdue, and how they lack any legal protection from Politico, the only publication in the world that would think about interviewing chicken lobbyists for their reaction to a comedian (bless), reported that the National Chicken Council has struck back against Oliver's show, releasing a press statement that slammed him for inaccurate facts and portraying a "completely one-sided view of U.S. poultry production and … not an accurate reflection of the overwhelming majority of the 25,000 farm families who partner with chicken companies."
As proof, they cited studies that claimed chicken farmers were happy individuals, and that 75% of them were satisfied with their relationship. However, Politico noted that they used numbers gathered 17 years ago, and cited a more recent study indicating that those good vibes have changed since then.
The segment, about the gutting of the Packers and Stockyard Act that left farmers unprotected from pig and swine companies, gave Democrats the fuel they needed to bring attention to numerous problems within the chicken industry, such as:
…some chicken growers have had problems with the way big poultry processing and other meatpacking companies force them to compete in a tournament system, in which farmers who produce the most pounds of chicken receive bigger payments, while those who produce less are punished with reduced fees. Chris Leonard, a former Associated Press reporter, wrote about this controversial practice in his book "The Meat Racket."

"The farmers go deeply into debt in order to get into the contract relationship with these companies, but they don't own the chickens they are raising," said Steve Etka, policy director for the Campaign for Contract Agriculture Reform, a coalition of groups that represent contract farmers. "They have this debt usually in excess of a million dollars that they go into, usually to mortgage the chicken farm and build the houses."

And the farmers dare not speak out lest they face even worse treatment, Oliver's segment advised, presenting chicken grower Mike Weaver as an illustration.

Weaver, a retired U.S. Fish and Wildlife Service officer, told POLITICO he has been raising chickens on his 350-acre farm in Fort Seybert, West Virginia, for 15 years and maintains about 90,000 birds. Weaver, who is also president of the Contract Poultry Growers Association of the Virginias, said he was one of Pilgrim's top growers before he spoke out in 2010 on a USDA-hosted panel about the use of the tournament system. Later, he said, Pilgrim's supplied him with poor-quality chicks and feed.

"They do it clandestinely," he said of the alleged retaliation. "They have ways of getting back at you that's hard for you to prove."
Considering that Oliver may have single-handedly made America care about FIFA corruption and inadvertently got corrupt president Sepp Blatter to resign, it's no wonder that chicken lobbyists are mildly concerned.
Watch John Oliver fire the shot heard 'round the agriculture lobbying world, via HBO:

[Image via screenshot]
—
>> Follow Tina Nguyen (@Tina_Nguyen) on Twitter
Have a tip we should know? tips@mediaite.com