Chris Wallace Grills David Plouffe Over Energy Policy: Obama Criticized Bush For Gas Prices In '08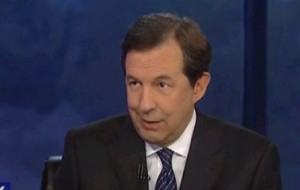 The Obama administration has been hitting back against charges that the president's policies have directly impacted the gas prices by saying that a Commander-in-Chief does not have direct control over price fluctuation. But when Obama advisor David Plouffe appeared on Fox News Sunday today, Chris Wallace reminded him that in 2008, Barack Obama was on the campaign trail hitting incumbent president George W. Bush for the rising cost of gas. So Wallace wanted to know why Obama shouldn't get similar criticism.
RELATED: Mitt Romney Calls On Obama To Fire Head Of EPA & Two Cabinet Secretaries: 'Gas Hike Trio'
Wallace played a clip of Obama from the last presidential election implicitly going after Bush for gas prices hitting a steep high during his presidency. So then Wallace asked Plouffe how responsible the current president is for gas prices continuing to increase. Plouffe insisted that the Obama administration is working hard to increase oil and natural gas production within the United States, but they have also been working to ween people off of non-renewable resources and onto solar and wind power.
Wallace brought up the president touting that domestic oil production has hit a new high under his leadership, but Wallace brought up a study noting that 96 percent of the increase over the last five years was on "non-federal lands," and oil production on federal lands actually dipped from 2010 to 2011. Plouffe argued that the total numbers, factoring in onshore and offshore drilling, show the math actually works out in the president's favor. And he added that the U.S. needs to be at the forefront of developing renewable energy.
Wallace finally brought up the Keystone pipeline, and how the president has prioritized the southern part of it when the part more people are concerned about is the northern part. Wallace asked Plouffe why the president delayed a position on the pipeline until after the election in November, mentioning that the pipeline has been under review for a number of years. Plouffe argued that they're still trying to go over parts of the project that may have an impact on the ecosystems around where people live in the Midwest.
RELATED: Boehner Blasts Obama Over Approving Solyndra But Rejecting Keystone XL Pipeline
Watch the video below, courtesy of Fox:
Have a tip we should know? tips@mediaite.com
Josh Feldman - Senior Editor