Fox News, 4:09pmET: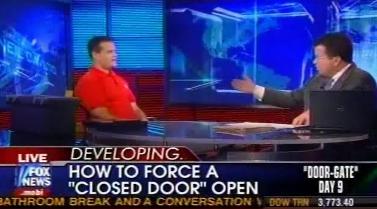 Today Neil Cavuto devoted an entire section of the A-block of his Fox News show Your World to a discussion about how best to remove a door. This is politically analogous to the "closed door" sessions that are occurring right now regarding the health care bill. But, really, it was about doors.
There were many chyrons we could have chosen here, but we went with, "How To Force A 'Closed Door' Open." Teaching him this technique was John Galka, the owner of the "Mr. Handyman" franchise.
So here's the backstory: For nine days ("Door-Gate Day 9" is the logo now), Cavuto and some other Fox News hosts have made stories out of the symbolic closed door when it comes to health care, and on Friday, Cavuto drove the point home in a commentary, ominously titled, "The Door Is Shut Like Their Minds." (Video at the end.)
Now we're at Day 9 of this, so we get door experts. The segment mainly consisted of door-related jokes that should play well with the construction worker demo. "There's the pocket door, right? That might be an acceptable solution," said Cavuto. "Certainly the biggest issue is, though you have doors that are constantly being locked, and there's no access, really – get rid of that door," said Galka. Get it?
We can't wait to see what Cavuto has planned for Door-gate Day 10…
Do you have a pick for Chyron of the Day? Email me at Steve@mediaite.com. Check out all the past Chyrons of the Day here.
And here's the segment from Friday, "The Door Is Shut Like Their Minds":


—–
» Follow Steve Krakauer on Twitter
Have a tip we should know? tips@mediaite.com