CNN Panel: Biggest Challenge GOP Faces Is Showing Conservatism Works And 'Liberalism Has Regularly Failed'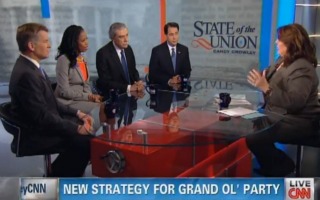 On Sunday's State of the Union on CNN, anchor Candy Crowley invited several prominent Republicans to weigh in on what they thought are the greatest challenges facing the Republican Party in the near and long-term future. Crowley's Republican guests acknowledged that they face some serious issues, but they agreed that the core message of the GOP should not change. One Republican governor said that the GOP needs to demonstrate for that "conservatism gets results and that liberalism has regularly failed."

RELATED: Gov. Bobby Jindal: Aside From Principles, GOP 'Might Need To Change Just About Everything'
Crowley opened the segment by playing a clip of New Jersey Gov. Chris Christie admonishing Congress for playing political games with the bills designed to aid states affected last year by Superstorm Sandy. "It is why the American people the Congress," Christie said.
"This was an anti-Republican – he was mad at John Boehner at this point – is there any way that you all can recreate the party by running against your fellow Republicans in Washington?" Crowley asked.
Saratoga Springs, Utah, Mayor Mia Love replied by saying that that intraparty feuds were ultimately counterproductive.
"Where we get into trouble is when we start dividing and start figuring out, you know, somebody uses opportunity for political gain here or somebody, you know, uses opportunity for something else," Love said. "We have to start uniting on our principles and start communicating that to the American people."
"How do you attract Latinos, how do you attract young people without, sort of, catering in a way Republicans say they don't want to?" Cowley asked.
"We have to be the party that celebrates immigration," said former Hispanic outreach director for Mitt Romney's presidential campaign, Carlos Gutierrez.
"For too long, too many Republican candidates only went to certain parts of America to talk about their message," said Wisconsin Gov. Scott Walker. "We have a message for immigrants, we have a message for small business owners, we have a message for college kids just coming out of college. It's about opportunity. It's about optimism."
Walker warned that the GOP should not to foster the image that they are opposed to President Barack Obama for opposition sake.
"Showing that conservatism gets results and that liberalism has regularly failed is our best chance," Virginia Gov. Bob McDonnell agreed.
Watch the segment below via CNN:
> >Follow Noah Rothman (@NoahCRothman) on Twitter
Have a tip we should know? tips@mediaite.com