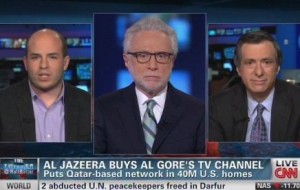 Al Jazeera's acquisition of liberal network Current TV has been the subject of much discussion in the media. For one thing, would Americans even tune in to an Al Jazeera-owned network? Wolf Blitzer brought media writers Brian Stelter and Howard Kurtz to answer the question of whether a network some still believe to be a "terrorist network" can do well in the United States.
RELATED: Glenn Beck Tried To Buy Current TV, Claims He Was Rejected For Ideological Reasons
Stelter explained that Al Jazeera has repeatedly tried and failed to get a foothold in American television, and they came to the conclusion that the best way to do that was to "buy their way in." He noted that Gore was trying to lock up the deal before the country went over the fiscal cliff and taxes would be raised, but the deal wasn't finalized until Wednesday.
Kurtz pointed out the international praise Al Jazeera has gotten for its journalistic programming, while acknowledging they have had an "image problem" to deal with. Blitzer highlighted a quote about the deal in which Al Jazeera is referred to as a "terrorist network," in the parlance of some with particular opposition to the network coming to America. Stelter said such feelings are "subsiding," though some networks are starting to get hate mail.
Current has previously tried to make itself a major player in the cable news business by bringing in Keith Olbermann over a year ago, but that experiment ended rather explosively. Kurtz said the network never had a "clear identity" to distinguish it from other networks and none of its big stars gave it any traction, with Stelter predicting that current Current hosts Eliot Spitzer and Jennifer Granholm will not continue on under new management.
Blitzer pointed out that Al Jazeera is funded by the government of Qatar, saying that he knows government leaders want to play a larger role on the international scene.
Watch the video below, courtesy of CNN:
—–
Follow Josh Feldman on Twitter: @feldmaniac
Have a tip we should know? tips@mediaite.com
Josh Feldman - Senior Editor