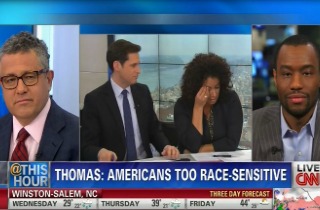 A panel on CNN's At This Hour on Tuesday tore into Supreme Court Justice Clarence Thomas' politically incorrect recollection of his youth. Thomas courted controversy on Tuesday when he said that the issue of race "rarely" came up while he was a child in Georgia in the 1960s. However, the justice recalled, it often did in the supposedly liberal Northeast. "The worst I have been treated was by northern liberal elites," Thomas said. "The absolute worst I have ever been treated."
The guests on CNN on Wednesday excoriated Thomas for his lack of racial consciousness, and particularly his lament that the country is more conscious of racial difference than it was, in his opinion, 50 years ago.
"What's so remarkable about this statement that it neglects the fact that in the mid-60s, when he was a kid, you could get killed if you were a black person for speaking about race," CNN Senior Legal Analyst Jeffrey Toobin asserted.
RELATED: Clarence Thomas: 'Northern Liberal Elites' Treated Me Worse Than Segregated South
Columbia University associate professor Marc Lamont Hill took the like-thinking Struggle Session a step further when he asserted that, not only is Thomas racially conscious, but he has actively made life more difficult for fellow African-Americans.
"He's had a long history of walking through doors and closing them behind him," Hill said. "He acknowledges no part that affirmative action played in his life but he wants to close the door for others."
Hill took issue with Thomas' desire to eliminate race as a social issue, preferring instead to work toward a merit-based society in which racial concerns play no part. He said it was disturbing, particularly for a powerful justice like Thomas, to "make decisions on color blindness."
"It shouldn't be to be post-racial but post racist," he concluded.
Even CNN host Michaela Pereira climbed down off the referee's chair to agree with her guests. "It makes me crazy," she said. "We are all guilty of this on occasion, a little revisionist history. We tend to look back and say things were better back then. He knows, and the history books tell us, things were not good in 1960s Georgia."
"So many people's realities were so very different from what he's saying it is," Pereira concluded.
No word on whether anyone was able to support Thomas' take on his own experience. None were apparently invited to participate in this discussion on CNN.
Watch the segment below via CNN:
[Photo via screen grab]
— —
> >Follow Noah Rothman (@NoahCRothman) on Twitter
Have a tip we should know? tips@mediaite.com