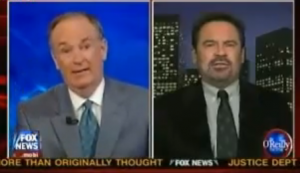 Bill O'Reilly had regular guest Dennis Miller on last night to discuss/celebrate the 13th anniversary of Fox News. And in what seemed a strange road analogy, Miller took predictable swipes at the cable news competition. But even stranger was that Miller also called out the extreme views of FNC hosts Sean Hannity and Glenn Beck. A vexed O'Reilly quickly defended his co-horts.
Comparing cable news to a long stretch of highway Miller said that "on the left lane, MSNBC has gone completely over the shoulder, over the breastplate, over the hip, over the knee…they are so far out there now that quite frankly Magellan and OnStar can't locate them."
On CNN, Miller opined "They've been around the longest…they are sort of like that old faded yellow line down the middle of the road. Periodically a rumble strip breaks out for the elections or the debates or something like that, but by and large, but people know it, they're familiar with it…but if they flip right through it and see Wolf Blitzer, they might think they're watching a Hunt for Red October because he looks like the U-Boat commander." (Explaining a joke is never a proud moment for a comedian.)
On the Fox News Channel, Miller said "Now on the right side — granted, now I believe that Fox is in the right lane, but you still got rubber on the road! Hannity's gone off road, and Beck, he's way down the road, but for the most part you, Cavuto, Greta, Bret… you still got rubber on the road! And I think credibility is like a baseball diamond in a cornfield – if you build it they will come."
For his part, O'Reilly appeared to be none too pleased by the candid assessment of FNC's right-lane position, and immediately fired back. "Now I disagree with you in two ways there" he said. "Hannity represents the Republican party – he's a Reagan Republican, so the Republicans are going to watch Sean. And there's nothing wrong with having someone on the air that represents the Republican party. But he's not off the rails anywhere, he's a Republican."
"Beck is successful, fabulously successful, because he's just a guy! He's not a journalist, he's a guy. The first time we've ever had a guy, all right? He doesn't pretend to be anything other than a guy, who loves his country he says 'everyday, I'm going to tell you what I think. It may not be what you think, but its just from me.' People want to watch people that they identify with, and they identify with beck"
The back and forth starts around the 1:35 mark.

Have a tip we should know? tips@mediaite.com
Colby Hall - Founding Editor