'Don't Lecture Me!': Senator and Fox & Friends Hosts Battle over Obamacare Video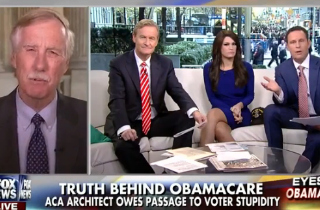 Things got a little tense Tuesday morning when Fox & Friends confronted Maine's Independent Sen. Angus King with video of an Obamacare architect suggesting a "lack of transparency" helped Congress pass the 2010 health care bill.
Video made the rounds yesterday of MIT professor Jonathan Gruber telling a University of Pennsylvania crowd in 2013 that voter ignorance helped get the Affordable Care Act passed because its authors were able to make sure the CBO did not score the insurance mandate as a tax. Gruber was a key figure in the bill's formation, having directly aided congressional staffers during its drafting.
"Are you as outraged as most of America?" Fox's Brian Kilmeade asked Sen. King after playing the video clip.
"I don't know what he was talking about. I certainly don't endorse those kind of comments," the senator responded. "Everybody knew that there were going to be additional taxes required to support the premiums under the Affordable Care Act. I don't see it as any deep dark conspiracy."
An incredulous Kilmeade shot back: "Really? Senator, he said he wasn't transparent. He wasn't telling the truth."
"Who was he?" King asked, throwing skepticism at Gruber's role in the law's creation. "I don't know where he was in the process."
After a little back-and-forth with Kilmeade and co-host Kimberly Guilfoyle, King scolded the pair. Transcript of the exchange below, via NewsBuster's Mark Finkelstein:
KING: Wait a minute, wait a minute. Tax and penalize? Hold it, hold it, hold it. We've got eight million people that have insurance now that didn't before and don't lecture me about this because 40 years ago, I had insurance. If I hadn't had it, it caught a cancer that saved my life. If I hadn't had insurance I'd be dead —

KILMEADE: What does that have to do with it?

GUILFOYLE: But that doesn't have anything to do with it.

KING: It does. It has to do with having insurance, man. If you don't have insurance, it's a high risk.

KILMEADE: They just lied about a health plan to the American people, called the stupidity of the American voter and bragged about the lack of transparency.

KING: This is one guy. I don't know who this guy was. All I know is that it's important for people to have health insurance. And if you guys are saying people shouldn't have health insurance, I don't know where you're coming from.

GUILFOYLE: That's not what we're saying, sir.

KING: Are you that cruel? That is what you're saying.

GUILFOYLE: No we're not.

KILMEADE: Oh my goodness!

GUILFOYLE: We're just looking out for the facts and information.
Watch the clip below, via Fox:
[h/t NewsBusters]
— —
>> Follow Andrew Kirell (@AndrewKirell) on Twitter
Have a tip we should know? tips@mediaite.com