Former WH Press Sec: GOP Holding Chuck Hagel To Standards That Mitt Romney Couldn't Meet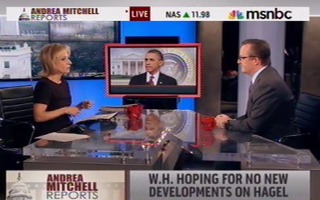 Former White House Press Secretary Robert Gibbs joined MSNBC host Andrea Mitchell on Tuesday where scolded Congressional Republicans for holding Defense Secretary nominee, Chuck Hagel, to a variety of arbitrary standards. Gibbs criticized Republicans for insisting that Hagel release several years' worth of financial records. He said this is an ad hoc standard which even former GOP presidential nominee Mitt Romney would have refused to meet.

RELATED: John McCain On Whether Hagel Opposition Is 'Payback': He 'Will Be Confirmed'
Mitchell began to ask Gibbs about the criticisms leveled at Hagel by his GOP critics — notably Sens. Lindsey Graham (R-SC) and Ted Cruz (R-TX). She said that Congressional Republicans are holding Hagel to a new standard when they request his financial records going back at least five years.
"I think the standard that Lindsey Graham and others are doing for finances for the Secretary of Defense is not one that their party's nominee for the White House to be commander-in-chief could or would have met just a few months ago when he was running for the presidency," Gibbs said interrupting Mitchell.
"Remember Mitt Romney's big excuse on giving us more information Caymans investments was, 'look, I filled out all that is required in the financial disclosure forms,'" Gibbs added. "Now, Lindsey Graham wants, I think, every private thought that Chuck Hagel's ever had and every public word that he's ever uttered."
"I think it is shameful what he's having to go through on that side of this," Gibbs concluded.
Watch the clip below via MSNBC:
> >Follow Noah Rothman (@NoahCRothman) on Twitter
Have a tip we should know? tips@mediaite.com