Fox & Friends Demands Obama Address Lane Shooting: 'At Least Jesse Jackson Stepped Up'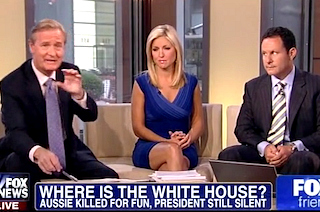 The Fox & Friends crew chased after the White House and Al Sharpton Thursday morning for not addressing the Chris Lane murder, given that they felt a precedent had been set after President Barack Obama spoke on the Trayvon Martin shooting.
"I thought it was at least good of Jesse Jackson to step up," said Brian Kilmeade, referring to Jackson's controversial tweet yesterday. "I haven't heard anything from Al Sharpton."
The show played footage of Ed Henry's exchange with substitute press secretary Josh Earnest yesterday, in which Earnest said he was not familiar with the case. After Henry explained it to him, sort of, Earnest said he "did not want to get ahead of the legal processes."
"That's extraordinary for him to say I'm not familiar with that, it was in big headlines on Drudge for like a day or two," Steve Doocy said. "Then for him to say, well, I don't want to get ahead of the legal process—well, the president certainly did that when he weighed in on Trayvon Martin way ahead."
"And the professor in Cambridge who 'acted stupidly,'" Kilmeade added, referring to the 2009 incident with Henry Louis Gates.
Gretchen Carlson fill-in Ainsley Earhardt agreed. "Many people say the president shouldn't have talked about one case because if he speaks on one case, now it opens the door that he has to speak on all the other cases," she said.
Watch the full clip below, via Fox News:
————
>> Follow Evan McMurry (@evanmcmurry) on Twitter
Image via Fox News
Have a tip we should know? tips@mediaite.com