Fox & Friends: Obama's Inauguration Day Happens To Be The 'The Most Depressing Day Of The Year'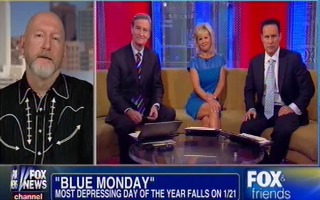 According to a report on Fox & Friends on Monday, today — the third Monday in January — has been dubbed the most depressing day of the year. It couldn't help the matter that today is also President Barack Obama's second inauguration. In order to combat the winter blues, the hosts invited motivational author Larry Winget on the program where he proceeded to berate the audience for failing to acknowledge their personal failings and defeating self-deception. I feel better already.

RELATED: Wall Street Journal Columnist To Fox & Friends: With Just 2% Growth, Obama's Legacy 'Will Be Ashes'
"As if a cold Monday in January wasn't dreary enough," Steve Doocy began, as hearts raced around the nation hoping the next half of that sentence would not be an honest one. "Today has been dubbed "blue Monday."
Phew!
"The most depressing day of the year," Doocy continued. "It has to do with drab weather, holiday bills, and resolutions that we have not met."
Gretchen Carlson introduced Winget who she teased was about to explain for the viewers that "if you're upset, you have no one to blame but yourself." Wonderful.
Winget's advice includes educating yourself, by reading one or more of his own books, and being honest with yourself about your own painful shortcomings. Winget was last seen on Fox & Friends in May of last year delivering history's most depressing graduation speech for the America's college graduates.
If you are indeed suffering from "blue Monday" syndrome, it is probably safe to assume that a stiff bourbon is a more reliable remedy for depression than today's episode of Fox & Friends.
Watch this segment below via Fox News Channel:
> >Follow Noah Rothman (@Noah_C_Rothman) on Twitter
Have a tip we should know? tips@mediaite.com