Fox News Contributors Suspended For 'Pussy,' 'Shit' Comments Aimed At Obama
Fox Contributors Suspended For 'Pussy,' 'Shit' Comments Aimed At Obama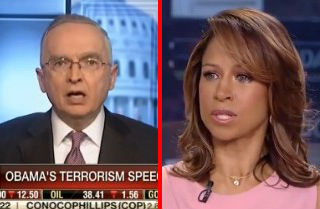 On Monday, two Fox News contributors were suspended for using profanity while discussing President Barack Obama's Sunday night address from the Oval Office.
Ralph Peters a Fox Business "strategic analyst" who called Obama a "total pussy," and Outnumbered contributor Stacey Dash, who said the president doesn't "give a shit" about terrorism, were reprimanded for using profanities on the air. Their punishment? A two-week suspension.
"Earlier today, Fox contributors Lt. Col. Ralph Peters and Stacey Dash made comments on different programs that were completely inappropriate and unacceptable for our air," Bill Shine, the EVP of programming at Fox said in a statement. "Fox Business Network and Fox News Channel do not condone the use of such language, and have suspended both Peters and Dash for two weeks."
Dash's remarks were appropriately censored during the broadcast, but Peters' direct insult was not. Varney & Co. host Stuart Varney warned Peters about using profane language on the program immediately after.
Earlier this afternoon, Mediaite columnist Joe Concha demanded the pair's suspension and called their outbursts "unprofessional."
The White House has not commented on the matter.
UPDATE –– 5:15 pm EST: Fox's own Howard Kurtz posted some criticism later in the day:
On Fox, Ralph Peters calls Obama a "total pussy" and Stacey Dash says he doesn't "give a shit" about terrorism. Fliippin' embarrassing

— HowardKurtz (@HowardKurtz) December 7, 2015
Critics can say what they want about the president's policies, but no need for such crude language on the air

— HowardKurtz (@HowardKurtz) December 7, 2015
[Image via screengrabs]
— —
>> Follow Andrew Husband (@AndrewHusband) on Twitter
Have a tip we should know? tips@mediaite.com