Fox's Ed Henry Challenges Obama On Syrian 'Red Line' And 'Blocking' Testimony Of Benghazi Survivors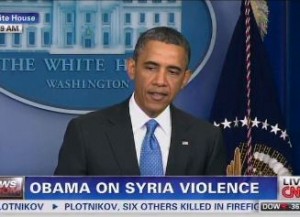 Fox News Channel White House Correspondent Ed Henry opened Tuesday's press conference by asking President Barack Obama questions relating to both the use of chemical weapons in Syria and reports that his administration is blocking survivors of the Benghazi attack from testifying. Obama said that his administration is investigating what happened in Syria to pursue the most effective policy to respond to a chemical weapons attack. On Benghazi, Obama said he was not aware of any efforts to block the testimony of Benghazi survivors.

"For several years now, what we've been seeing is a slowly unfolding disaster for the Syrian people," Obama began. He said that his administration has not been a bystander as this crisis unfolded, and reminded the press of his demand that Syrian President Bashar al-Assad step down.
"What we now have is evidence that chemical weapons have been used inside of Syria, but we don't know how they were used, when they were used, who used them – we don't have a chain of custody that establishes what exactly happened," Obama continued. "When I am making decisions about America's national security, and the potential for taking additional action in response to chemical weapons use, I've got to make sure I've got the facts."
Obama said that the international community and regional actors much be made to support any action that is taken in Syria. "We already are deeply engaged in trying to bring about a solution in Syria," Obama added.
"By 'game changer' do you mean U.S. military action?" Henry asked.
"By game changer I mean that we would have to rethink the range of options that are available to us," the president replied. Obama implied that, while military options are available to him, he said that his administration is pursuing all other courses of action before resorting to direct intervention.
Henry turned to Benghazi and asked Obama if his administration has been actively attempting to intimidate the survivors of that September 11, 2012, attack on an American consulate in Libya into not testifying about the events of that night.
"Ed, I'm not familiar with this notion that anybody's been blocked by testifying," Obama replied.
"They've hired an attorney because they're saying that they've been blocked from coming forward," Henry pressed.
"I'm not familiar with it," Obama reiterated.
Watch the clip below via CNN:
> >Follow Noah Rothman (@NoahCRothman) on Twitter
Have a tip we should know? [email protected]