George Will: 'Preposterous' For GOP To Think They Can Use 'High Gas Prices' As Big Campaign Issue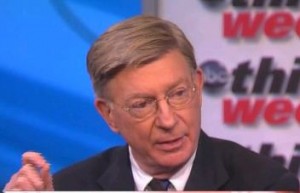 In the short space of time this past week when we weren't talking about contraception, people were going on about higher gas prices. Many Republicans are trying to put the blame squarely on President Obama, but on This Week today, George Will shut this down as "preposterous" and "economic nonsense" because the president has little control over gas prices in the first place.
RELATED: Ed Schultz And Richard Wolffe Explain Global Oil Markets To Republicans
George Stephanopoulos asked if social issues like abortion would be a deciding factor at any point in this race. doubted it, saying only 4 percent of people make abortion a high priority on their list when choosing elected officials. Former Michigan Governor Jennifer Granholm was encouraged to see Virginia Governor Bob McDonnell back away from his support of the legislature's transvaginal ultrasound bill. Roberts couldn't help but point out the irony of people constantly speaking out against states controlling health care wanted to give states certain such control over health care.
But Will kept the focus squarely on economic issues, because unlike highly divisive social issues, there's a chance the Republicans could win if more people are talking about jobs than abortions. But he thought Republicans can't just keep hoping issues like high gas prices will give them the advantage they need, and assuming they could win so easily with the help of an issue like that would be "preposterous." He pointed to Congressman Allen West, who complained about how much it costs to fill up his car. West owns a Hummer.
"Newt Gingrich said the American people have a right to demand two dollar and fifty cent gas prices. They have a right to demand lobsters grow on trees. This is economic nonsense."
RELATED: President Obama: Republicans Are 'Licking Their Chops' Over Rising Gas Prices
However, Stephanopoulos and John Engler did note that rising gas prices might not be Obama's fault, but they will most certainly be his problem.
Watch the video below, courtesy of ABC:
Have a tip we should know? tips@mediaite.com
Josh Feldman - Senior Editor