Geraldo Wrestles with Fox & Friends Hosts Over Syria: 'I'm Exhausted' with War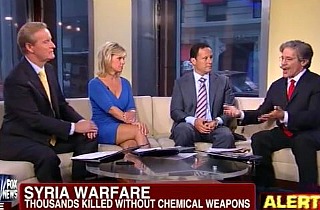 Fox News Channel host Geraldo Rivera joined the hosts of Fox & Friends on Friday for a marathon segment where he argued with the hosts over why it was a bad idea, in his opinion, to intervene in the Syrian civil war. Rivera cited a number of reasons for his opinion, including the questionable anti-Bashar al-Assad rebels, the prospect of mission creep, the lack of public support, and the limited chances for achieving vague and ill-defined objectives.

"I think that this is fraught with peril for the United States," Rivera said. "We are picking sides in a civil war where we have no strategic interest in one side or the other prevailing."
Rivera cited widely reported evidence of rebel factions in Syria torturing and executing pro-government forces. "Those are the good guys?" he asked. "When they take over, do you think that those seven Syrian soldiers are where their butchery will end? There will be a blood bath."
Later, Rivera warned that an American strike would likely include civilian deaths. "How would we feel then?"
Brian Kilmeade said that Rivera was being inconsistent having supported the strike two weeks ago but not today. "In the moment – in the passion of the moment, it was appropriate," Rivera replied.
"I believe that this could be the president's most important decision of his entire presidency," Gretchen Carlson said. She asked what Rivera thinks President Barack Obama should do if Congress fails to authorize an attack.
RELATED: Republicans Voted to Invade an Imaginary Syria
"To be denied authorization and to go ahead anyway – I don't want to overstate it and say it's a constitutional crisis – it will definitely be a historic slight to the Constitution of the United States," Rivera said.
The Fox hosts agreed that Obama will be unable to govern if he alienates Democrats and Republicans in Congress by ignoring a vote on a Syria strike.
Rivera exploded again when he asked why Syria's regional neighbors, who have the biggest stake in the civil war, are not carrying out the strike. He said that Assad is now "an international war criminal" and will never be safe outside of Syria. "You can do it," he insisted. "If the world care so deeply about this, then let the world — even without committing their military – punish him."
He concluded by saying that he, and the United States, is "exhausted" after a decade of war.
Watch the clip below via Fox News Channel:
[Photo via screen grab ]
— —
> >Follow Noah Rothman (@NoahCRothman) on Twitter
Have a tip we should know? [email protected]